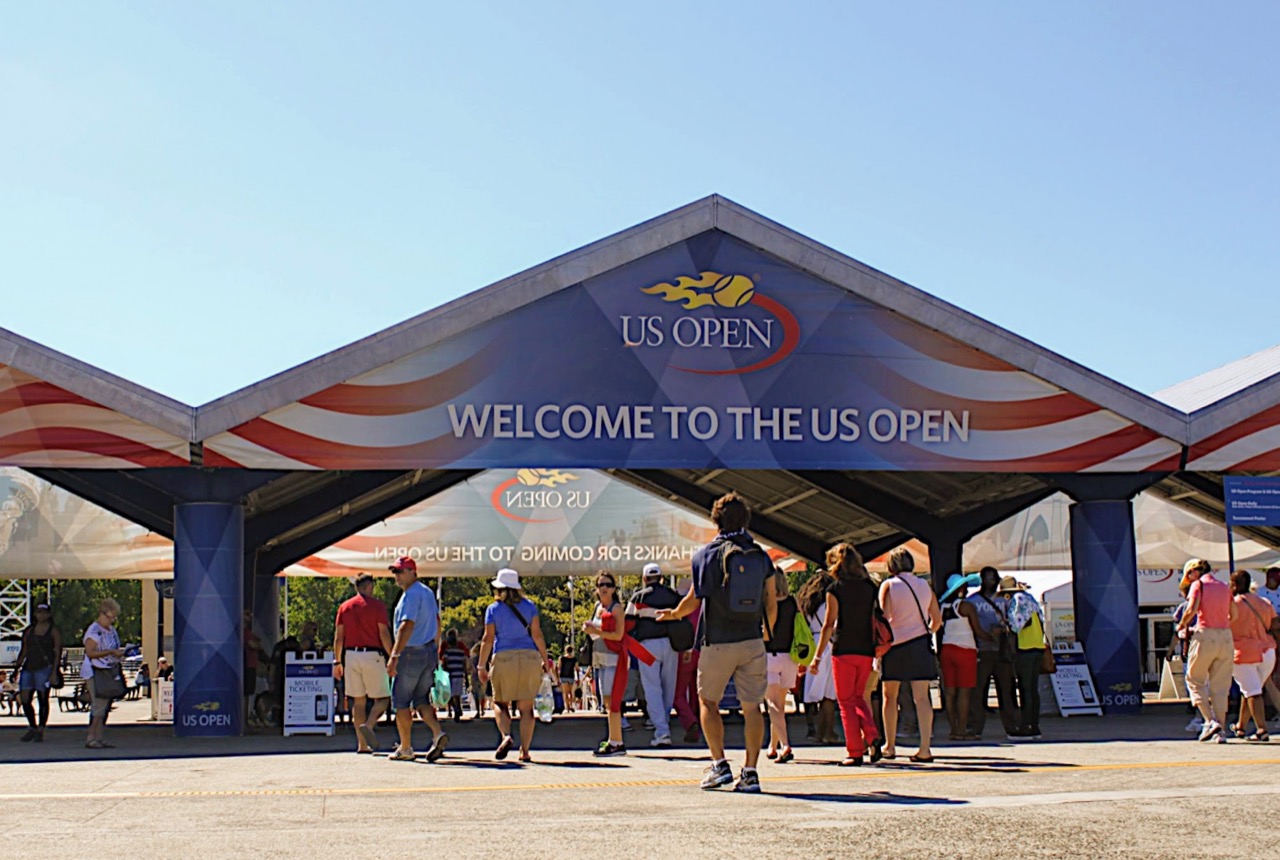 The US Open, one of the most important tennis tournaments in the world, is coming up! We've been attending the US Open in some form or another ever since we moved to New York City. The experience is absolutely a one of a kind extravaganza! For big sports fans, this is a bucket list item for sure. Visiting Arthur Ashe stadium in Queens Corona Park is at the top of tennis fans' list. If you've always wanted to see this world famous tennis competition, then read on for the best tips and tricks for attending the US Open on a budget.
Going to the US Open for Free
Whether you're a New York City area local, or are visiting from out of town in late August, Fan Week, is the time that you can go to the U.S. Open not just on a budget, but for Free! (Fan Week is going on right now! August 19-25, 2019!)
Fan Week occurs during qualifying rounds, so any major tennis fan without tickets for the later games, should make this a primary destination. The grounds are open and you can even go into Arthur Ashe stadium for certain events.
Even better, during Fan Week there are tons of free activities and clinics for kids. Check out the schedule and definitely plan a day to attend! Near the end of the week, Saturday, is Kids' Day! This is the ultimate day for shows and events for kids!
Getting Discounted Tickets to the US Open
Major tennis fans, know that to get the tickets they want, they will have to plan several months in advance. If you're flexible on exactly which tickets to get, but trying to attend the U.S. Open on a budget, a great trick is that American Express card holders have access to buy half price tickets several months ahead of time!
We have done this quite a few times in the past, and never been disappointed. We once took the kids to a quarter final game that we got using this trick and got to see Rafael Nadal play!
Tips and Tricks for the US Open on a Budget
As with all major sporting events, there are numerous ways to spend money when you're at the U.S. Open. But with a little bit of planning you can also make it a budget excursion.
Food at the US Open
What can I say, food at sporting events tends to be expensive and unhealthy and the U.S. Open is no different. You are not allowed to bring in backpacks, only small bags, which means you can't pack a meal. That said, for little kids, you can definitely bring in a few snacks in your small handbag.
Souvenirs from the U.S. Open (for cheap)
If nothing else, read this section: There are always a ton a free goodies that you can get at the U.S. Open! The sponsor booths change from year to year, but there are usually 3 or 4 booths that have games or activities you can play. So if you're trying to attend the U.S. Open on a budget you should definitely make this part of your game plan.
Our kids have loved playing the various interactive games that are offered, and I honestly think they probably remember the games more than watching the tennis matches.
You can often pick up goodies like- a little radio to hear the matches when you are outside the stadium, or a fan, small towel, the usual sports paraphernalia. If you are inclined to spend some money, usually the souvenir beer glasses are not very expensive (relatively speaking).
Our favorite souvenirs have actually been the set-up pictures that you can get digitally. They change from year to year, but at the matches you can use the Fan Cam to get a picture of yourself in the audience.
If only some of your family is attending a match, you can log in here, to view matches live and grab a screenshot of your loved ones in the audience. And again, many of the sponsor booths will take digital images as well.
Cheap Transportation to the USTA Billie Jean King National Tennis Center
To get to the U.S. Open at the USTA Billie Jean King National Tennis Center, by far the cheapest form of transportation will be taking the subway. If you're coming from other parts of New York City, take the 7 (purple) line to Met-Willets point. Use the MTA planner to figure out your directions!
Met-Willets Point also has a commuter rail station on the Long Island Railroad for those coming from further afield.
From the subway station, and the commuter rail, there is an easy wooden walkway that gets you all the way to the tennis center.
If you choose to drive, parking will generally run about 25 dollars. That said, if you get there early, it is quite convenient, especially if you have multiple people attending. There is a ramp coming down from the same wooden walkway going down into the parking lot.
Taking Kids to the U.S. Open
To wrap things up, let me just make a few more points regarding kids. Generally speaking, the U.S. Open is a great event for tennis fans and those wanting to encourage kids to play the sport.
I would say that viewing the matches will be most enjoyable if your kids are elementary school age and up. This is mostly because, as you know, toddlers and preschoolers are quite fidgety to be able to sit and watch a tennis match quietly. We have done it before, but it does require a parent willing to leave mid-match.
Babies, on the other hand, in our experience are fine. Again, as long as you are willing to be flexible on seeing a full match. The vast majority of areas of the USTA Billie Jean King National Tennis Center are accessible for a stroller. In Arthur Ashe stadium there is an elevator to get you most of the way up, and right beside the elevator there is a stroller storage room.
So if your kids are little, I would encourage you first to try out Fan Week (for free)! See how they do, and evaluate whether it would be worth the cost to take them to later matches. And definitely hit up all those booths full of tennis games and fun!
Have you been to the U.S. Open? with kids? How about other major sporting events? Any tips and tricks to add on?
By the way, if you are staying in Queens and need more activities for kids, I highly suggest checking out the adjacent Flushing Meadows Corona Park and the New York Hall of Science.
P.S. I know I said I would have more recaps coming up of our Southwest USA road trip…they're coming! But working through our summer goals has been a priority and is currently taking up all our (my) time.