Are you itching to take your baby or toddler to their very first baseball game? Then this one is for you!
Tips for your first baseball game with a baby or your first baseball game with a toddler! Including: when you should arrive at the stadium and what you should bring with you. How to manage a baby at a baseball game and fun things to do with your toddler during the game.
Read on for how to create a magical experience and a love of baseball. Don't be stressed! Go to a baseball game with kids!
Seeing as it was Baby B's first visit to the US, and it was summer time, we decided to take the kids to their first baseball game.
First Baseball Game at Minute Maid Park in Houston Texas
It was no
Fenway
but the AC'ed
Minute Maid Park
in Houston to see a game that actually turned out to be really good against Milwaukee (even though we only stayed just over half way through).
We got there just a little early to buy tickets and walk around a bit. Little Boy just loved the lights, sounds and overall commotion of such a large stadium.
We found our way to our seats and then ordered some food. The anthem, and then eating snacks and lunch easily took up the better part of three innings.
Then we made our way to the bathrooms, and explored some other parts of the stadium including getting a commemorative certificate for their very first Astros game!
We got to see one more inning as Little Boy was enjoying his free bag and towels and then it was way past nap time and we had to head home.
All along Baby Brother was perfectly behaved sleeping in the carrier and then taking in the lights himself. It ended up being a really fun family outing and we can't wait to do it again!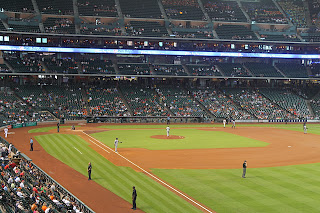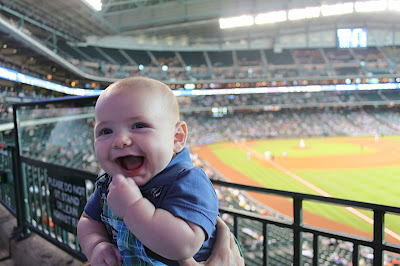 Tips for Taking Kids to their First Baseball Game
Get there early enough to calmly find seats, but not too early.
Be prepared to walk around and explore the stadium.
Don't get the most expensive seats- you will likely not be able to watch the whole game unless you have a sleeping infant.
Be prepared to leave early: Baseball games are much longer than toddler attention spans!
You can get a "My First Baseball Game" certificate, near section 323 in Minute Maid Park, just walk over anytime with the kiddos.
You can bring a stroller to the stadium, but it needs to be left at the Fan Accommodation Centers. So…I would suggest leaving it in the car!
Tickets for under age 2 are free, as long as baby sits on your lap.
For babies, we recommend bringing a baby carrier.
*This post was first published on [post_date].