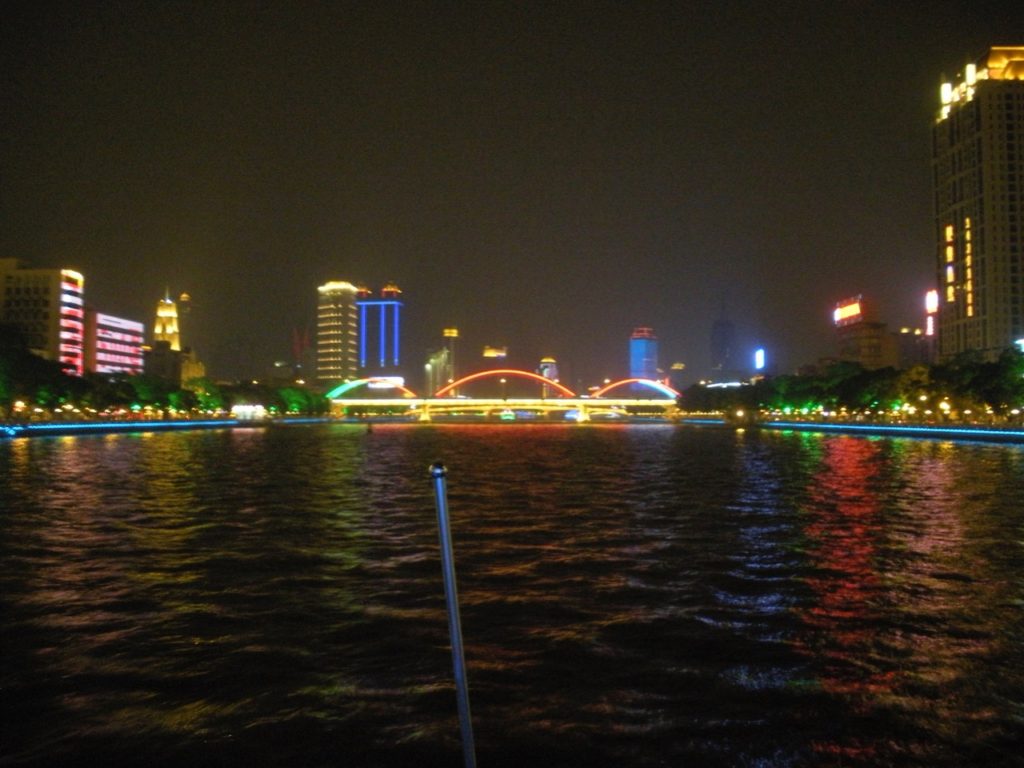 If northern China was all about history and the southwest was all about nature, then in Guangzhou we really got to know modern China. With limited hostel options all grossly overpriced, we decided to try our luck couch surfing in what turned out to be a very successful experience.
Couch Surfing in Guangzhou
We stayed at a student's apartment whose friend Kate and her boyfriend were occupying for the summer. In sharp contrast to our hosts in Zhonglu, this was a modern apartment in a fairly new complex.
I would say two things stuck out: first that the apartment was really relatively bare. As we had been told a couple of weeks earlier, a Chinese apartment usually comes with just a frame, no plumbing or electric, etc.
The other was that talking to Kate we learned about Chinese students' lives, aspirations and realities. Especially refreshing was to hear pragmatic points of view that we hadn't been exposed to in our formal dealings with the Chinese.
Shamian Island Guangzhou
While in Guangzhou, we spent most of the time shopping and saw a few sights in this business-oriented city. Shamian Island, a British colonial outpost with some nice buildings.
We also took a river cruise to see the many high rises lit up at night. Of note are amazing fish balls (pancake batter rolled around a piece of fish) that we grabbed on the corner of one of the main shopping streets. The metro was excellent, new and air conditioned, in this very hot and humid city. Overall it was a good time in a big city.
CITS Guangzhou– They are the local equivalent of STA Travel and were wonderful in helping us change a ticket we had booked through STA. Ask for Donna. Address: 2/F, CITS Guangdong Mansion, No.618 Jiefang Bei Road, Guangzhou. Chinese version: 广州市解放北路618号广东国旅大厦A座2楼前台
Hong Kong
The morning to Hong Kong began with Starbucks. Our train to Hong Kong was just under 2 hours and very comfortable.
Hong Kong is an amazing, clean, and modern city. You are not in china anymore really. It's like an Asian NYC, but more interesting.
Accommodations in Hong Kong
It is ridiculously expensive and coming from mainland China it is a shock. We found a nice hotel, with a small room, in good location, clean, and 4 times more expensive than our previously highest priced room!
Alison Guest House– small room and bathroom, with good shower, Western toilet and clean. Conveniently located in Causeway Bay. Relative to Hong Kong, is very reasonably priced. 400 hkd/ double ensuite
Victoria Peak
In the evening we went to Victoria Peak to see a view of the city and took the peak tram. The tram has been functioning for 120 years! The line was lengthy and we probably could have walked or gone by bus but it's the touristy thing to do.
The view from above is magnificent as most of the buildings on Hong Kong Island and across the water are illuminated with different colored lights.
Eating in Hong Kong
We found a restaurant there and indulged: apple cider, salmon burger, and a shrimp pizza. This was our first pizza in 40 days, and for us this is a great accomplishment. (We did walk in to one pizza hut and one papa johns to check out the menus but we were very happy we waited.)
The next morning we had some egg custard pastries, yummy, and went to the post office to mail some things. We wandered around a really nice mall at the base of the IFC building and had dim sum for lunch. Daph finally got her fix!
Kowloon and more eating!
The Bank of China building has a nice view on the 43rd floor which didn't disappoint. We enjoyed a rare latte at Pacific Coffee, and they had newspapers! It's something we haven't seen in a while.
Continuing to Kowloon we explored Nathan rd. and Avenue of the Stars where at 8 p.m. every night there is a light show across the water where all the buildings light up synchronized with music. "Symphony of Lights" i believe is the name.
We continued on our busy night and went by metro and foot to the SOHO area where there are lots of nice cafes and bars. First we had a snack at a place called Habibi. There were miniscule portions of humus and labne with mini pitas.
Our next stop was a sort of UK pub (Australian, Irish, and British all in one). We went there for one reason: fish and chips. Tasty but pricey. We had enough so we headed home. Feeling full and tired we slept well.
mey
Lantau Island Hong Kong
Our final day in Hong Kong was a short one. We had enough time to see one more thing, so we headed off to Lantau Island to see the Buddha at Ngong Ping.
The main attraction was the chairlift to get up the mountain where we got a taste of Hong Kong's green outlying islands. Despite the haze, the view was quite beautiful and definitely left us with a taste for more.
We had just enough time to grab our things, pick up a french bread for the road and head back to the airport for our flight to Nepal…