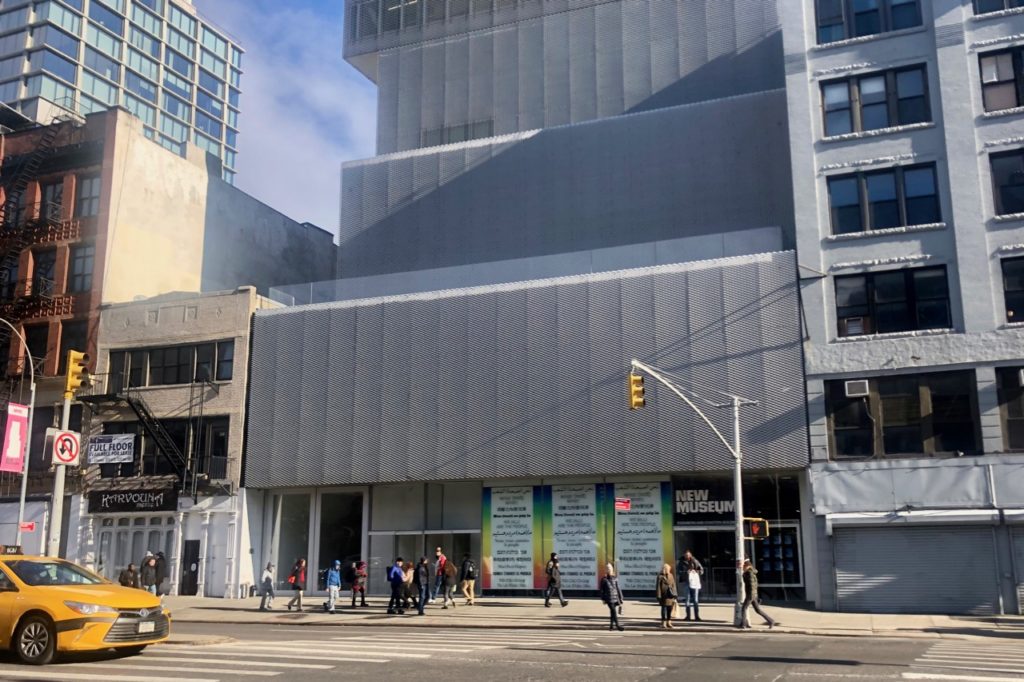 The New Museum in Lower Manhattan is a small modern art museum, excellent for a short visit with kids. Visiting the New Museum with kids is pretty straight forward, unlike some other New York City museums that make it a bit more complicated. While the exhibitions are not specifically geared to kids, we have found just enough interest for exploring. The proximity to Chinatown and the Lower East Side, make this museum a great addition to any visit to downtown Manhattan. Here's what you need to know if you're visiting the New Museum, with or without, kids!
Visiting the New Museum
Located on the edge of the Lower East Side, the New Museum is a small contemporary art museum. It's proximity to SoHo and Chinatown, make it an easy addition to touring either of those areas. Also, within a few blocks walk, there are several subway stations. (B/D/F/M at Broadway Lafayette, J/Z at Bowery, 6 train at Spring St, and N/R at Prince St).
The New Museum with Kids
For families, the first Saturday of the month, usually offers special activities for kids. These take place on the top floor. Look at that view!
Month to month the activities change based on the primary exhibition taking place. The Saturday morning for families, offers free admission before the museum opens later that day to the general public!
Speaking of exhibits, being a contemporary art museum, these change rather frequently. I would suggest taking a look at the museum website to see what is on view before planning your visit.
On a recent visit, we enjoyed this interactive Hans Haacke retrospective, and the display by Carmen Argote (who hails from Guadalajara)!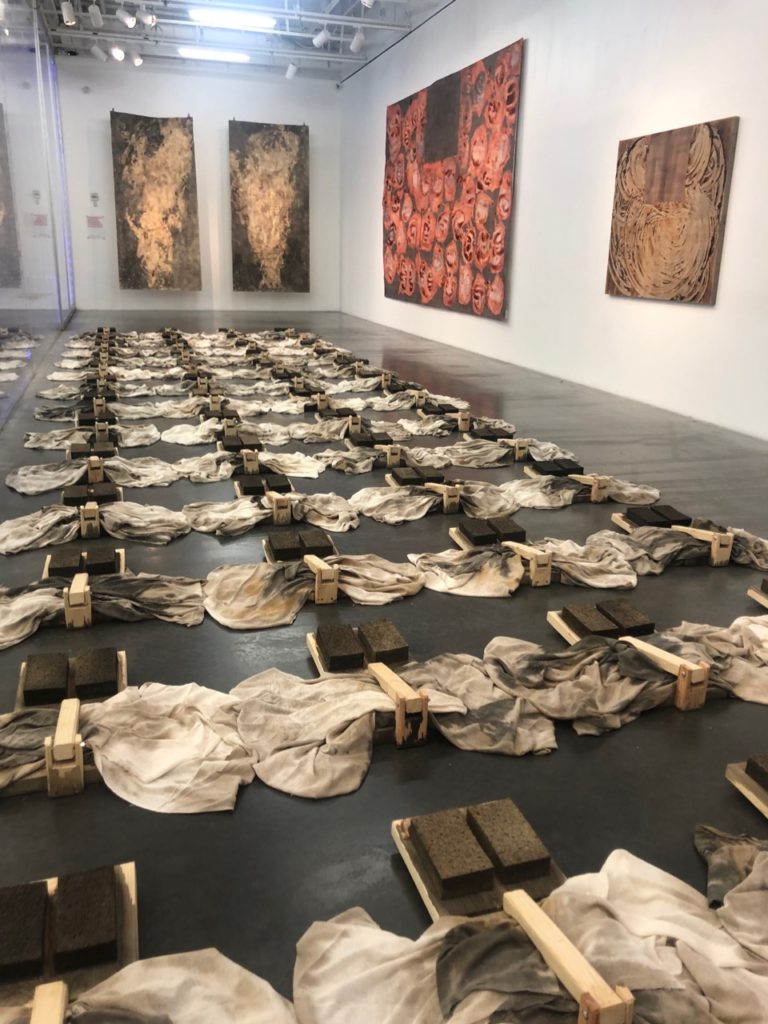 Overall the museum, while spread on several floors, is on the small side. This means that it is quite perfect for a short visit with kids, especially if you keep them engaged in conversation. When it's time for a break, the lobby of the museum does have a small cafe. However, for more than a coffee, head out into the neighborhood and explore the options!
Where to Eat in the Lower East Side
There are so many places to explore in this area, you can really feast to your heart's content. Here are just a few suggestions nearby:
Cafe Habana– for Cuban and Mexican food. Their specialty is the grilled corn!
Parm– classic Italian-American chicken parmesan and more!
Taim– Taim means tasty in Hebrew, and you seriously can't go wrong with the falafel and salads here!
Black Seed– Montreal style bagels.
Yonah Schimmel's Knish– classic knishes and more. Pair it with an egg cream for a decidedly New York City experience!
I could go on and on. The Lower East Side is full of good eats. You can feast your way around the world in a matter of a few blocks. When you have your take out, or are ready to walk off a few calories, head to the Elizabeth Street Garden.
Elizabeth Street Garden
Nestled between the buildings, is this amazing little quiet spot. The Elizabeth Street Garden is a community garden full of little treasures for your little one to explore. Come relax, take some pictures, and enjoy.
We love pairing every museum excursion with some outdoor time, and you can't go wrong with the garden just a couple blocks away from the New Museum!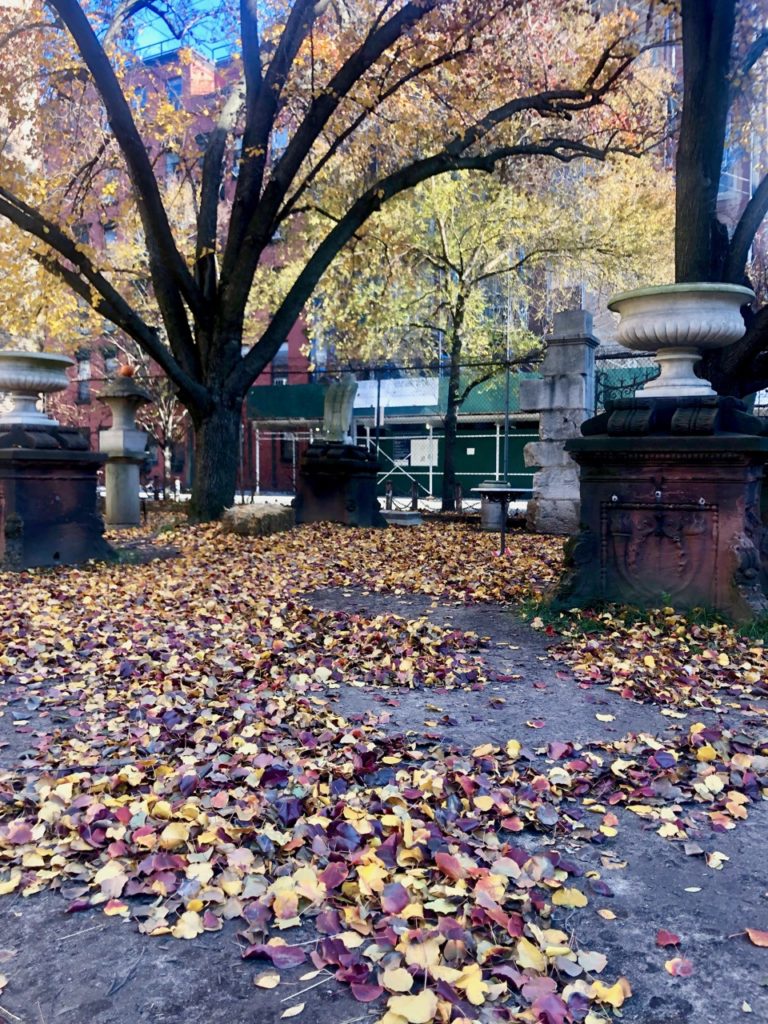 What are you favorite hidden gardens in town? Do you like to run from attraction to attraction to make the most of your time? Or are you a fan of down time during exploration? We've done it both ways…