Ready to get away to the beach with kids in Texas? Are you thinking about a Port Aransas family vacation? Debating between Port Aransas vs Corpus Christi? Then you've come to the right place.
For families in Austin or San Antonio your closest beaches are Corpus Christi and Port Aransas! On the tail end of the summer season we were able to sneak in a weekend getaway to Port Aransas, or as I've come to learn, Port A as the locals call it.
Today I will detail everything you need to know about driving from Austin to Port Aransas with kids. How to choose the best route for your road trip to Port Aransas, parking in Corpus Christi and Port Aransas beaches, things to do with kids along the way, and of course, some tips for a beach vacation in Port Aransas.
Deciding between Corpus Christi vs Port Aransas for a Beach Vacation
When we went on our short trip to Port Aransas, we actually left town without a reserved accommodation. We were open to both Corpus Christi and Port Aransas, in terms of lodging.
Essentially they are on the same shoreline. However, there is one key point that is important for families planning a trip to the beach:
Driving is allowed on the beach in Texas!
Port Aransas is a great choice for a family beach destination because there is a separation barrier between where the cars drive and the actual shoreline. This is super important because, who wants their kid to get run over by running into the street, I mean beach?!
Corpus Christi has no such barrier, leaving yours truly too tense to relax with the kids at the beach.
The advantage of being able to drive all the way to the shore, is that you can park with all your beach gear right on the beach! Rather than carrying towels and umbrellas and beach toys, just drive up and park! Then you can take your time unloading the car and setting up for a day at the beach in Port Aransas!
Speaking of which…though you can drive on the beach, you are limited to about 15 miles per hour, and you need a permit to park!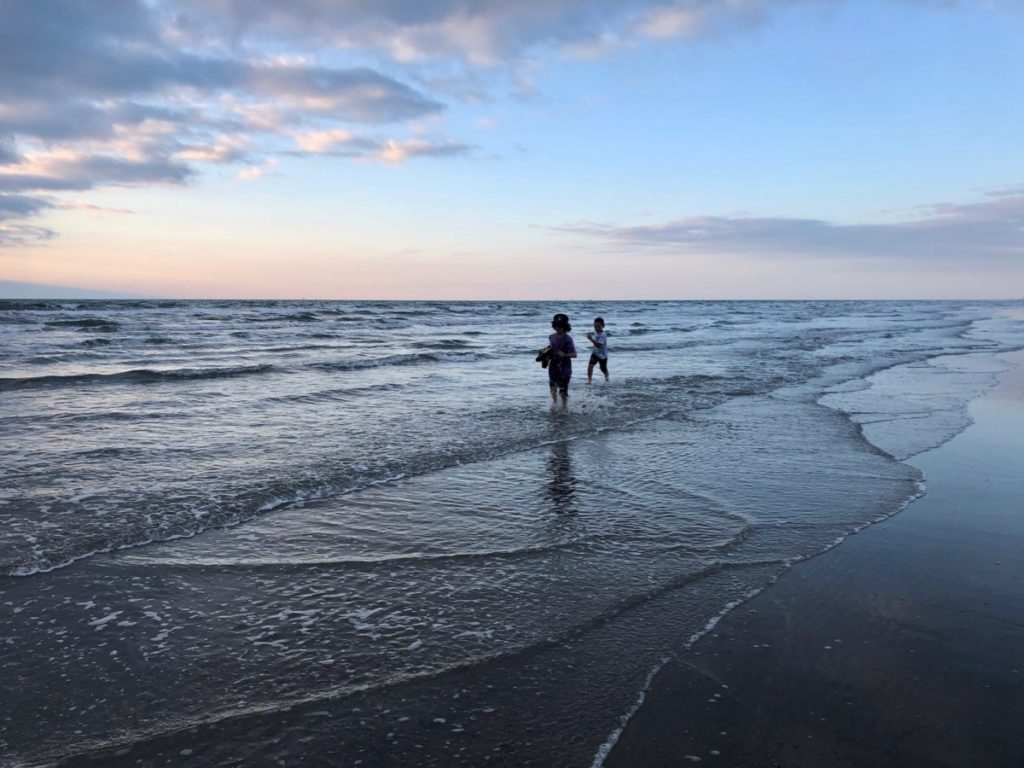 Beaches of Mustang Island
Mustang Island is located along the Gulf Coast of Texas, running from Corpus Christi to Port Aransas. To its south is Padre Island, the world's longest barrier island. We got to drive up and down over our days in the area. Here are just a few highlights:
Whitecap Beach – This is the closest beach once you get off the highway in Corpus Christi. The beach is very wide and flat. There are other access roads near by.
Mustang Island State Park- A good option, if you are staying farther in town and don't have direct beach access. You can also camp here!
Then there is a stretch of hotels and condos with beach access. Two of the most popular places to stay with families are Cinnamon Shore and Palmilla Beach Resort & Golf Community.
Port Aransas beach– this is the "downtown" beach! It is (practically) walking distance from restaurants and hotels.
Parking on the Beach in Port Aransas and Corpus Christi
As mentioned above, if you're going to Corpus Christi with kids, and want to drive up to the beach, you need a parking permit. Here are the permits for beach parking you need to aquire along the Texas shorline:
Parking on the beach from mile marker 0 to mile marker 62, requires a parking pass from the City of Port Aransas. There is a section with free parking between mile marker 52 and mile marker 58.
Parking within Mustang Island State Park is included in the price of admission.
Parking from mile marker 62 to Padre Island National Seashore requires a parking pass from the City of Corpus Christi.
Parking passes are easily obtained at any convenience store.
Things to Do in Port Aransas with Kids
The primary thing to do in Port Aransas is of course, hang out at the beach. Since you can drive all the way to the shore, you can bring all of your own gear and make this a budget vacation. Alternatively, here are a few extra things you can do:
Port Aransas Nature Preserve– The nature preserve has some hiking trails available and includes the birding center. Note: on our trip in 2020 only the birding center was accessible.
The Leonabelle Turnbull Birding Center is where you can come for some birdwatching and to see the infamous crocodile. It is pretty small, with elevated walkways. For bird watching it is best to come in the early hours of the morning. That said, it doesn't smell great, and there is a hum from the machinery nearby.
Fishing– You can go fishing in several places in the area. One option is the Horace Caldwell Fishing Pier. Here's what you may catch. There are pole rentals available in various places and we also saw plenty of fishing gear for sale at the local H-E-B (grocery store).
Port Aransas Vacation Rentals
The vast majority of lodging options in Port Aransas are vacation rentals. There are a few hotels, but they are not right on the beach.
For us beach vacations are all about easy access to the shore, so we made an exception to our general preference for hotels, and booked an airbnb. We had a great experience (you can see our view at the top of the post).
If you are planning on going to Port Aransas during the summer or spring break (March), then definitely explore some places to stay well ahead of time!
Zoom out on the map to view vacation rental options on VRBO and Booking!
Port Aransas with Kids
All in all, I definitely recommend Port A for a low key beach vacation with kids. It is one of the best beaches in Texas!
Vacationing in Port A can be done on a wide array of budgets, from camping on the beach, to staying at one of the nicer resorts, and pretty much everything in between.
Bring your typical beach gear, or hit up one of the beach superstores when you get there! So you don't forget anything, download your beach packing list now!
Driving from Austin to Corpus Christi
Now that you've booked your trip, or you're seriously thinking about it, let's make sure you know how to get to Port Aransas!
If you are making the drive from Austin to Corpus Christi or Port Aransas there are three different routes you can take! When we left town, in October (in a pandemic), there was little to no traffic, and the routes were estimated to take exactly the same amount of time!
Here are your options. As you can see they are all around four hours driving time.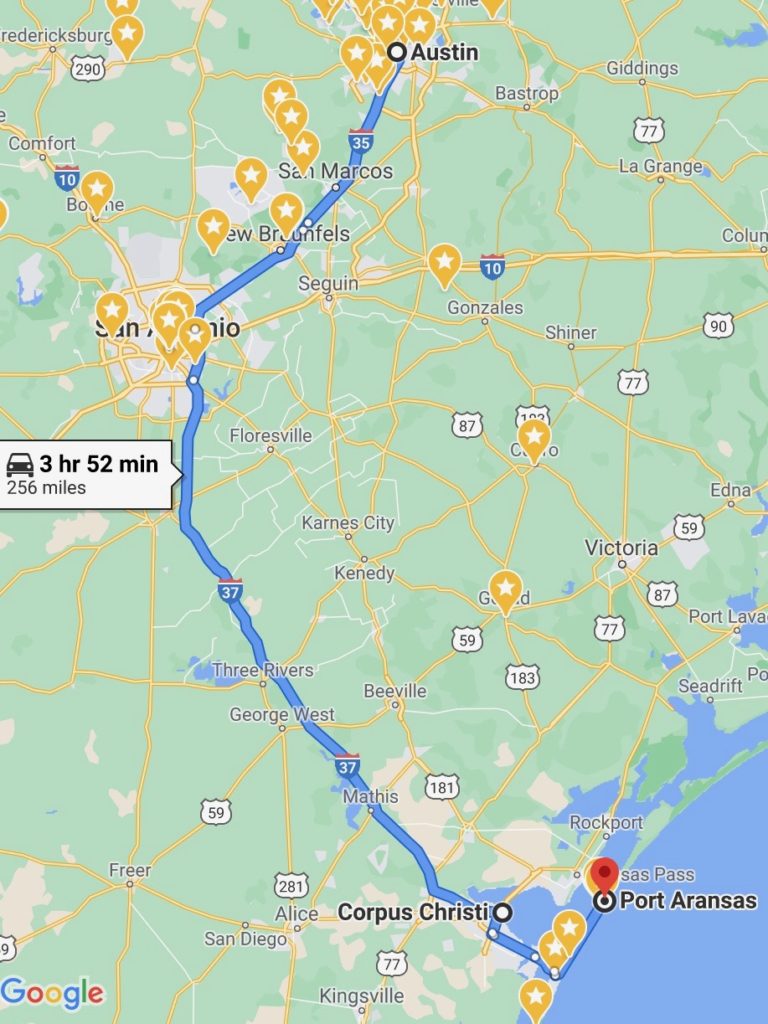 Option 1: Austin to Corpus Christi via San Antonio
If you're coming from West Austin, driving via San Antonio may be the best choice for you. From Austin you will take the I-35 to San Antonio. From there you take the I-37 straight to Corpus Christi.
To get to Port Aransas you will exit to the 358 and then cross the JFK Causeway. Head north on Padre Island to Port Aransas.
We took part of this route driving to San Antonio, and honestly the I-35 is a mess. There are so many trucks, and traffic that it makes for a stressful ride.
Option 2: Austin to Corpus Christi via Seguin
When we saw that taking the smaller State Highway 123 was an option that would take the same amount of time, this was the option we chose. Driving from Austin, you do need to take a small section of the I-35, but then exit to SH-123 at San Marcos.
The SH-123 has sections that only have one lane in either direction, meaning that it can get slow if you end up behind a truck. On the other hand, the speed limit for much of it is quite high, so the driving time ends up being about the same.
This route was definitely more scenic, in that you are really driving through vast areas of farmland. We saw quaint flea markets and small towns along the way. And as we were in the last hour, saw wind farms right along the highway!
From the SH-123 you will need to either take the 181 and ferry across to Port Aransas, or cross over to the I-37 for the last stretch into Corpus Christi.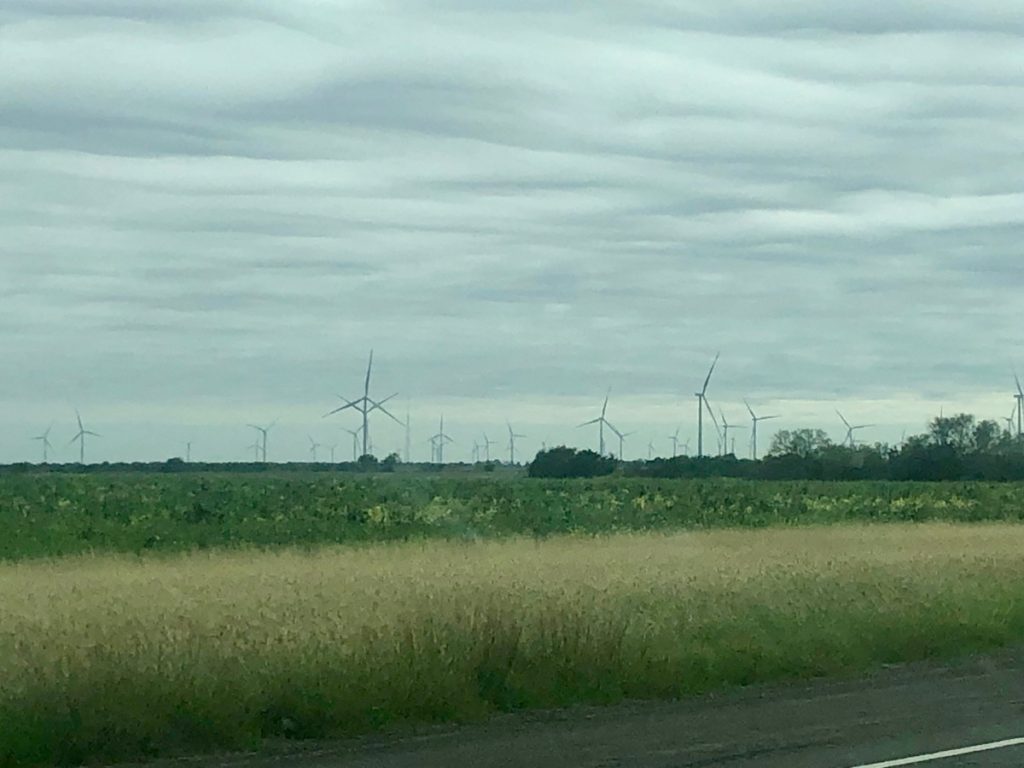 Option 3: Austin to Port Aransas via the I-183 and Ferry
Driving on the I-183 is another good option. It actually ends up being the shortest route in terms of distance, but again driving time from Austin to Port Aransas will be the same. You will stay on the 183 until Goliad. (Then take a small section on the 77 to get to the 181 to the 35 and then to the 361…but just look it up, it's not too hard and signs are clear!)
The most fun part for the kids of this journey, is that from the 361 highway you need to take a car ferry across the Aransas Pass. The ferry ride itself is very quick, what makes it take longer is waiting in line to get on a ferry.
Tip: To determine if you should go this route, check the ferry wait time here, by selecting "SH361 Aransas Pass" from the menu on the left.
This was the route we chose to take on the way back, and is in my opinion, the best route if you will want to stop on the way for an activity! Here are the fun things to do we found along the way! So you can choose one or two.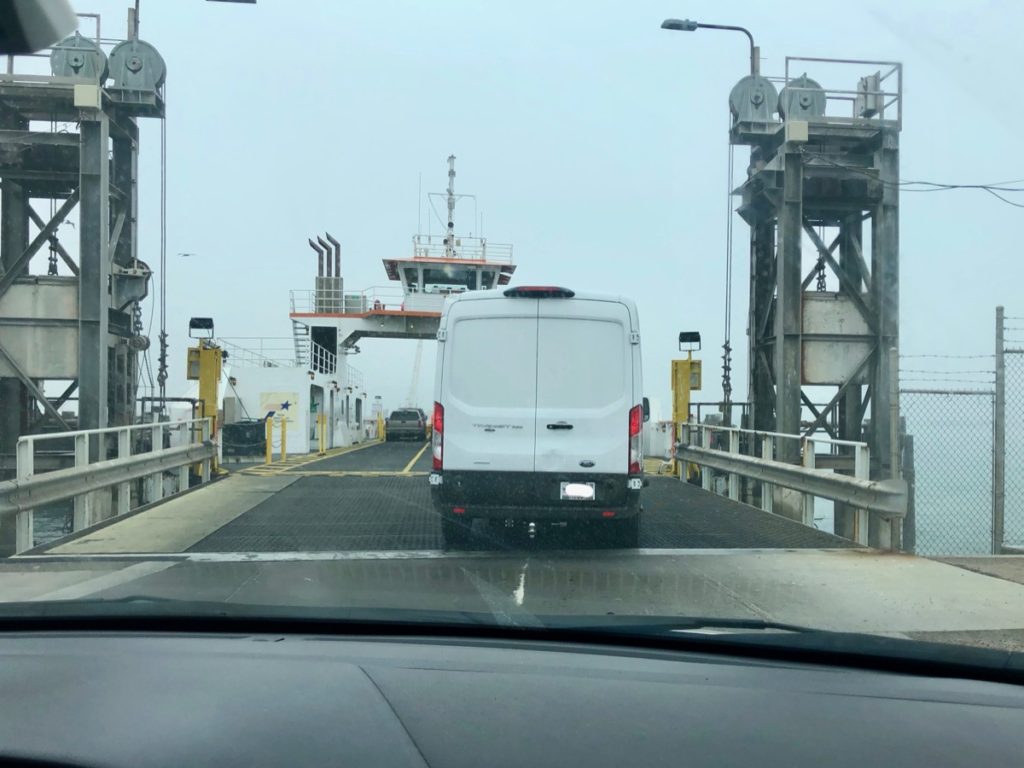 Stops along the 183 from Port Aransas to Austin
Four hours is a really long time for driving with kids! Here are some places of interest you can stop along the way to the beach.
Goliad State Park and Historic Site– a Mission building from the 1800s that you can tour and park space for running the kids around. The highway goes right through the park. Nearby is the Presidio- LaBahia which was a Spanish stronghold in the 1836 revolution. (This looks a lot like the Alamo).
Texas Zoo– short detour to Victoria, Texas. This non profit zoo has rescue animals.
Chisholm Trail Heritage Museum– to learn more about the cattle drives of the 19th century. There is also the Cuero Heritage Museum for some local history nearby. Cuero is roughly the halfway point between Corpus Christi and Austin. (We stopped here).
The Pharmacy and Medical Museum in Cuero, Texas– looks like an interesting stop to see old school pharmacy paraphernalia.
Palmetto State Park– short detour off the highway and looks like a great day trip. Hiking trails and camping, good for families! Click through to read my complete guide!
Edgar B Davis Southside Park in Luling, Texas– a small park by the river with spots to picnic, just a short detour off the highway.
Lockhart– for some infamous Texas BBQ. Head to Kreuz Market or their competitor Black's BBQ. Both are good!
Have you been to any of the Texas beaches? What was your experience like?
Not yet ready to book your vacation? Save this post for later!