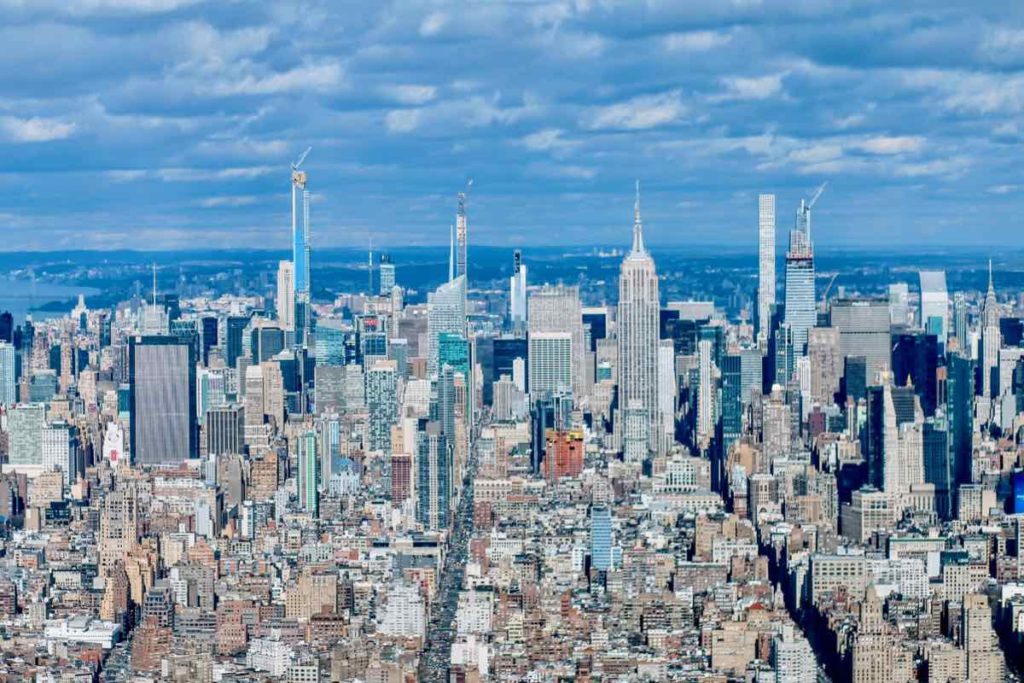 What do you think of when you hear New York City? Times Square? Rockefeller Center? Parades? New Years Eve? So basically…midtown Manhattan!
One of tourists' favorite things to do in New York City is to visit these famous spots in New York, and really the world over. That, and shopping. Because while the museums are world class in New York, so is the shopping.
If you are toting along kids, the fact of the matter is that they will not be happy going in and out of stores or watching Mom and Dad try on clothes. And although the Lego Store or Nintendo Store can be fun for a bit, you are going to want to have somewhere to run the kids around.
So today I'm here to talk about what you can do with kids in New York City from Midtown to Downtown. Including, but not limited to the areas south of Central Park, starting around Rockefeller Center, Bryant Park, Herald Square and down to about Union Square. Parents, take note!
This post may contain affiliate links. Thank you for supporting our work.
Midtown to Downtown Things to Do with Kids
When planning your first trip to New York, I suggest giving each neighborhood its own day (or half a day). A museum on the Upper East Side or Upper West Side plus Central Park. Another day for downtown Financial District. A day for touring the Statue of Liberty and exploring Battery Park City. You get the idea.
If you're going to be devoting a day to midtown, and shopping, then here are some ideas of kid friendly activities to incorporate into your day.
Go through this list and choose a few options to mark on your map. I highly suggest that you use a map for planning your trip to New York City, because there really is so much to do, and you do not want to be going back and forth between the different areas!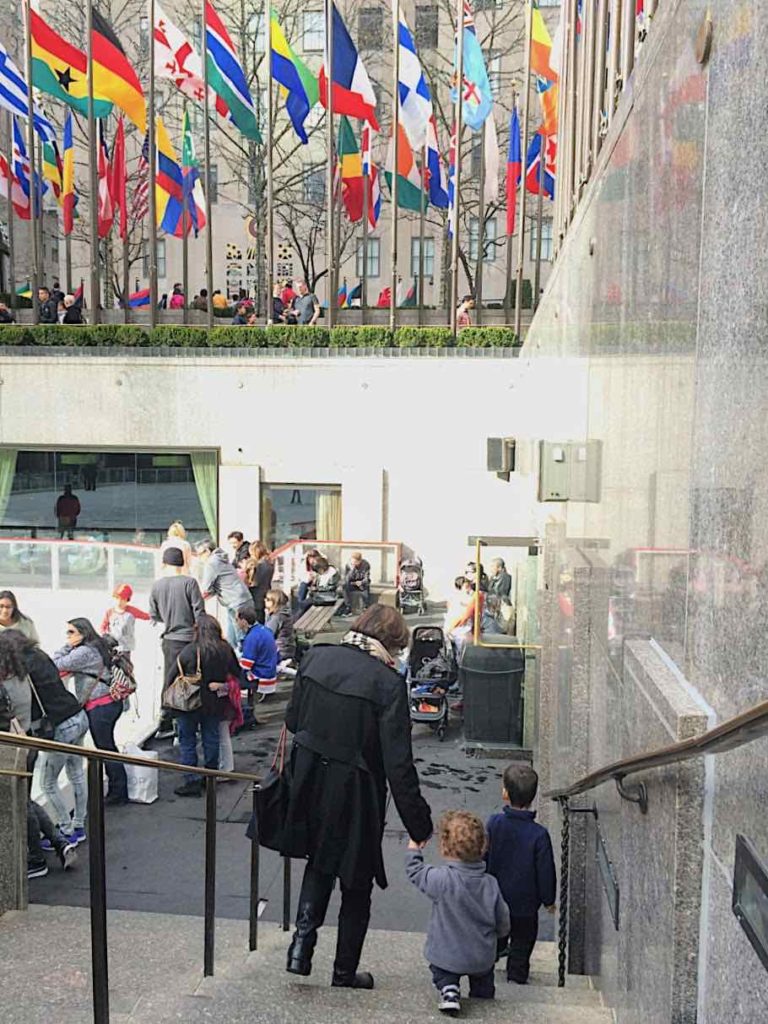 Rockefeller Center
Rockefeller Center is an iconic place to walk through in mid-town. In the winter, there's the famous skating ring. In the spring there are gorgeous tulips, but mostly, it's just shops and a place to take some pictures.
For fans of the Today Show, you can get up before dawn and try to grab a spot to be seen on tv!
There are restaurants in the underground shopping plaza if you are there and need to eat, but all in all, you don't need to devote much time here.
Fire Truck
The FDNY Fire Zone is located just a couple minutes walk from Rockefeller Center. It is a very small "museum" where you can learn about fire safety. The main attraction here is a fire truck that you can climb inside.
If you have a 2-5 year old, that is in a fire truck phase this is a great place to come and let them enjoy a few minutes of play. My experience is that it is always staffed by very nice fire fighters!
Note that the official New York City Fire Museum is located downtown and is more of a complete museum, but I wouldn't necessarily recommend it for tourists unless this is your "thing", if you know what I mean.
Top of the Rock
Top of the Rock is one of the most famous places to see a view of New York City. This is the quintessential midtown view. My personal experience is that younger kids are not too interested in this type of activity, but if you kids are mid elementary and up, this could be fun.
Note that the Top of the Rock observatory is open from 1-9 pm, so this is more of an afternoon to evening activity. You can (and should) book tickets ahead of time. This is included in the New York Pass, if you will be going to a bunch of tourist destinations, this could save you money!
Alternatively, you may prefer to see the view from the World Trade Center downtown. All the detail on the One World Observatory here. I really don't think you need to do both, but to each his own.
Times Square
Times Square is a huge area spread over several blocks. There is nothing to "do" in Times Square but it is such a famous land mark in New York City, that I'd be remiss not to mention it.
If you're interested in the Times Square flagship stores, then check out my guide, for the best time to go! Otherwise, I suggest walking through in the evening to see all the flashing lights. The bright lights really makes you feel like it's daytime!
Set expectations with kids that you will hold their hands while walking through the crowds! Otherwise, keeping them strapped in a stroller is a good idea.
Bryant Park
Also at 42nd street is Bryant Park. During the winter you will find a skating rink here as well.
During the summer the lawn is open and there are often free shows during lunch time. It does get very busy with the office crowds having lunch, so while there are many tables and chairs, it is not the most serene spot.
For kids there is also a tiny carousel to check out. You will also find many food stands, etc.
NY Public Library Main Branch at 42nd St
In the same city block as Bryant Park, is the New York Public Library Main Branch. Officially named the Stephen A. Schwarzman Building, this library branch is also a museum. The main entrance is on 5th Avenue, but note that there is an accessible entrance on 42nd Street.
While adults will be interested in the Beaux art architecture of the building, current exhibitions, and the fabulous gift shop (really great), for kids head down to the basement. The lower level has the children's books, and is the perfect quiet spot to wind down for a few minutes. Just remember, it is a library so quiet, respectful behavior is expected.
Grand Central Station
Let's be clear, if you're walking down Broadway or Sixth Avenue, the Avenue of the Americas, then Grand Central Station is not on your way. It is a detour to the east.
If you must get a view of the iconic ceiling of Grand Central Station, then know that there is an off shoot of the Transit Museum, the Grand Central Transit Museum Gallery here. There is a small model train that our kids absolutely loved at the train loving ages of 2-5 or so.
The food court on the lower level can be good for quick service if you're famished. Just remember that it caters to commuters so will be busy during commuting times.
If you happen to be in New York City in the summer, often times Park Ave will be closed for traffic on the weekend for Summer Streets. This can be a fun way to walk part of midtown in a leisurely manner.
United Nations
If you have older children perhaps you may be interested in touring the United Nations. If that's the case, book your tour ahead of time. Otherwise I do not recommend it for little, little ones.
That said, there is a cute plaza, which I never see mentioned it tourist guides and my children have loved in this part of town. Dag Hammarskjöld Plaza on 47th St and 2nd Ave, is one of the few open spaces in this part of town. There is also a little garden you can walk through.
Another option is to head to Tudor City Greens for a quiet green space, the Mary Connor playground, and across the street Tudor Grove playground. Both playgrounds are pretty much exactly the same, but it's good to have options to let the kids climb!
Would I make a special trip to go here? No, but again this guide is to give you ideas of things to do with little kids in midtown while working around your general New York City touring itinerary.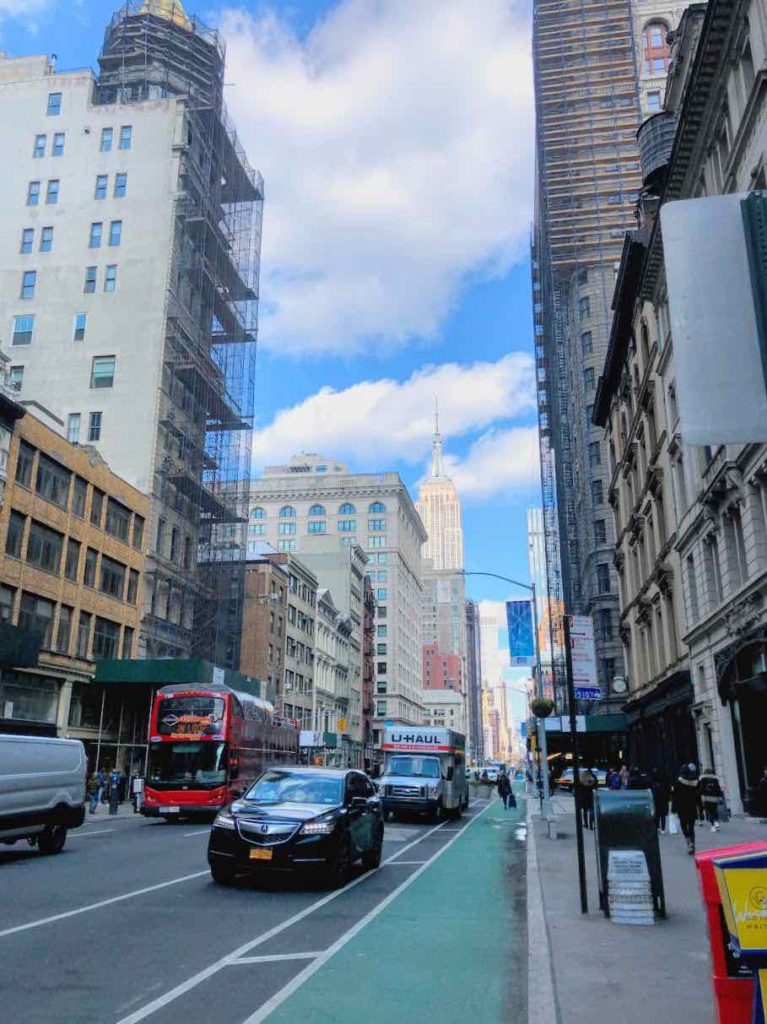 Empire State Building
The Empire State Building is obviously really famous. It has an observatory as well. What's there to say really? Walk on by, grab some pictures? But if you are planning to go up, do yourself a favor and use a New York Pass.
Herald Square
Alright back to Broadway…Herald Square is another one of those non-kid friendly areas. While there are small pedestrian plazas to grab a bite to eat, it's not somewhere I would let kids play. Speaking of food: Koreatown is right here, so consider trying Korean food!
Then again, if shopping is your thing, you can go to all of the major chains right here. So it can be an efficient part of town to do your shopping. Macy's and all.
Also good to know: The subway here has an elevator, so it is convenient for those with a baby in a stroller. And pro tip: If you want to save money on accommodations by staying in New Jersey, the PATH train (like a subway to NJ) has a main stop here.
So Herald Square: shopping and transportation. Check.
Hudson Yards
If you are inclined to go all the way to the west side, then I guess I must mention Hudson Yards. This development has luxury apartment buildings, a shopping mall, and of course The Vessel.
As a New Yorker, climbing this structure doesn't hold much appeal. However, if you do head over to the area, it is a great place to hop on the Highline if you have a stroller, as there is a long ramp to get on!
There are more things to do on the West Side and Chelsea, such as the Intrepid Museum, walking around galleries, and even visiting the Whitney Museum. I would suggest leaving these for a separate day from your midtown shopping escapades.
Flatiron District
If you walk down Broadway from Herald Square, your next big stop will be the Flatiron District. Of course take a picture of the Flatiron building.
Madison Square Park
Madison Square Park is right by the Flatiron building; you can't miss it. It is a great place to let the kids run around a bit. There is a very small playground on the north side. There are also lots of benches all around, and the south side has a Shake Shack stand alone, and lots of table and chairs to eat your lunch.
There are also lots of quick service restaurants in this area. Eataly is a famous Italian themed food court on 23rd street. But there are so many great places to eat here. Also, there is a Lego store right on the corner of 23rd and 5th Avenue.
Union Square
Last stop on our walk down Broadway for today is Union Square. The main reason you might want to come here with kids, is because the main subway station at Union Square has an elevator!
There could be of course a ton of reasons to come here- like if you're visiting NYU or want to come to a specific store, or the farmer's market (which is one of the best in New York)! Otherwise, it is not a super touristy part of town, and not our favorite for kids.
That said, if you are in Union Square, there is a playground that is pretty good, with both a section for toddlers with a sandbox and swings, and for section for older kids. There is even a restroom here!
Have you visited Midtown with kids? How did you enjoy it? Did you find things for kids to do in Midtown as a tourist or did you have to shuffle them around? Let me know in the comments!
Whether I convinced you that there is a lot to do for kids, or not that much to do for kids, what there is a lot of is accommodations! So many hotels to choose from! Click on links below to start exploring the best deals!