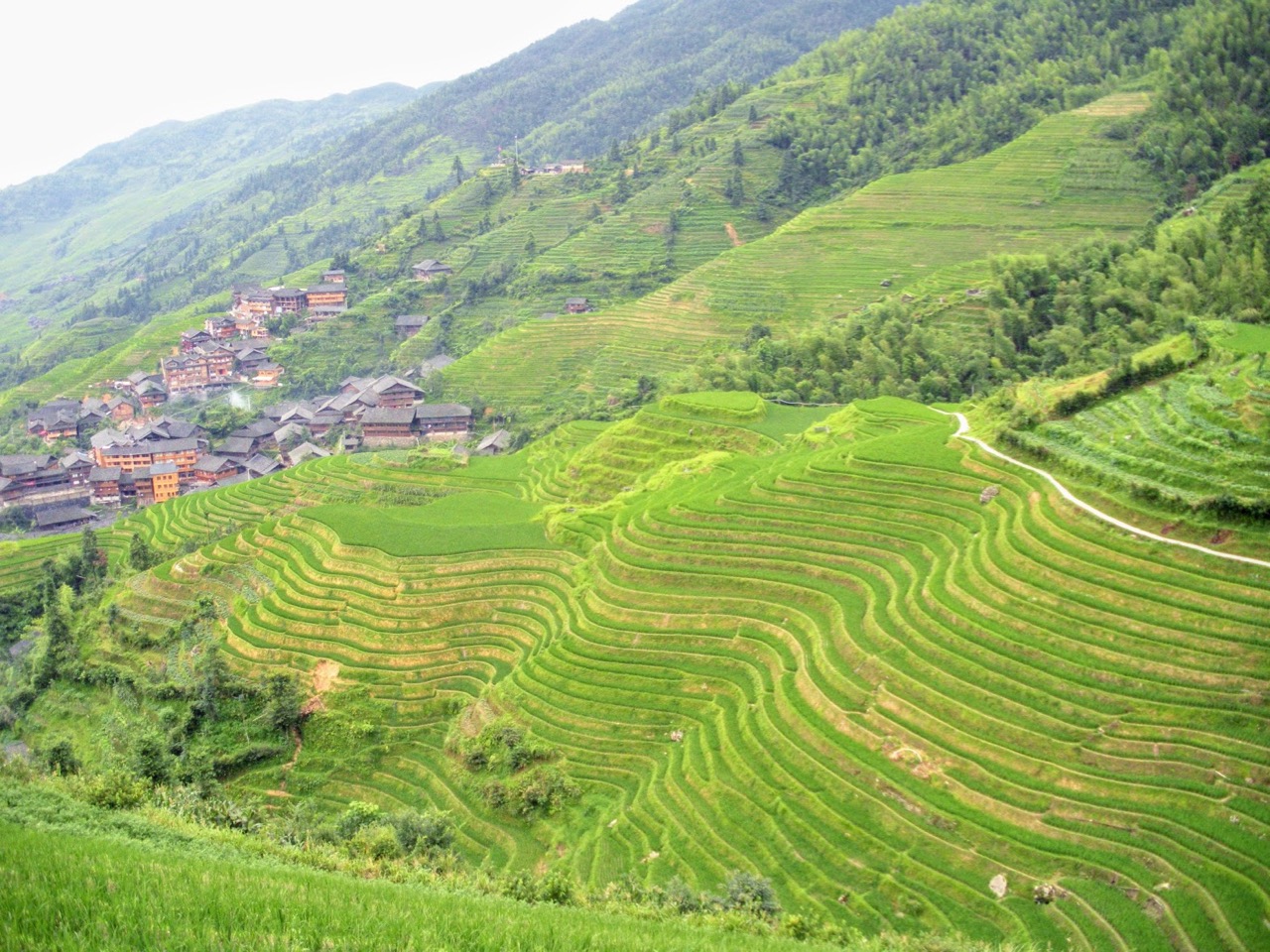 Kunming
We arrived in Kunming from Dali in the early evening and went to our first "downtown" hostel. The problem with being downtown was that there was lots of shopping but nowhere to eat.
Eventually we stumbled upon a decent restaurant where we had some delicious lotus root and a whole grilled spicy fish. By 3 am we had realized that the real problem with being downtown was 10 discos competing with each other just below our window.
The next morning we got up extra early to go on a day trip and again faced with minimal food options resorted to Mickey D's for breakfast. It was Daphna's first McDonald's breakfast in her life! And it was not too bad.
Our first attempt in going to the Stone Forest was marred by a crazy, possibly drunk bus driver, whose bus we opted to get off of. Still at the station, we demanded our money back.
Destiny had determined that this would be city exploration day. A little shopping, nice lunch, and a Walmart later we arrived at our new hostel, a chilled-out location like we have been used to.
Where to Stay in Kunming
The Hump– Located downtown it had decent shower with western toilets. It's a big place with doubles and dorms. Our experience was not great- dirty and noisy as it is located next to an alley with many clubs. It had a lively terrace with restaurant and loads of travelers.
Cloudland hostel– All rooms have a shared bath. Rooms and bathroom were very clean and comfortable with Western toilet. The hostel has a nice staff and is a minute walk to Wal-mart and the bus stop. Highly recommended.
Where to Eat in Kunming
Salvadors– located in a nice area close to university, really good Western/Mexican food. Try the chili. Other restaurants, bars, and shops adjacent are nice as well.
Brothers Jiang– Chinese food chain very popular and pretty good. You get noodle soup with veggies and meats if you want. Order at the counter and eat inside.
Shilin Stone Forest
The next day, we finally made it to Shilin, the Stone Forest. The park is essentially a conglomeration of karst rocks and we enjoyed exploring around and imagining what the rocks look like.
That night for the first time in more than a month, we went in search of Western food. We ended up in the Yunnan University area, a hip area that was bustling. Salvadori's came through big time with a huge and tasty chili cheese dip with tortilla chips as well as a yummy panini.
From the moment we arrived in Kunming the lack of train tickets onward had been haunting us. We would have to wait one more day and change our destination in order to obtain the coveted tickets. At the recommendation of a family we met on the bus to Kunming we spent the final day at the Yunnan Provincial Museum.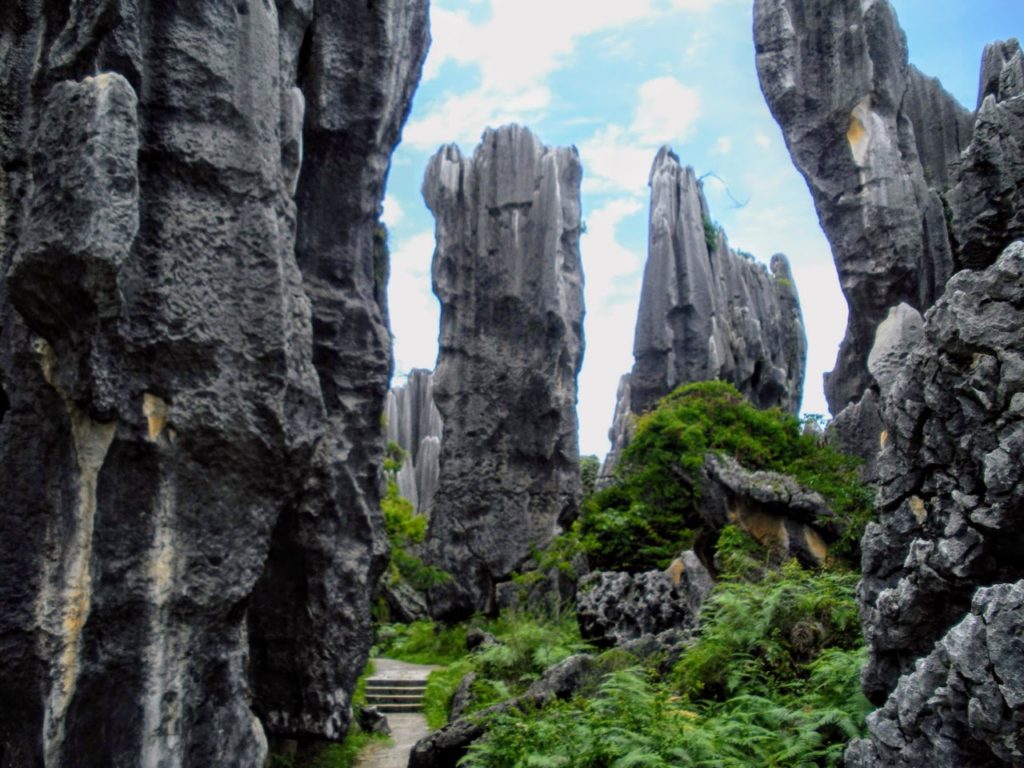 Journey from Kunming to Guilin
At 5 pm we began our journey towards Guilin as we boarded a night train to Kaili, a small city in Guizhou province. That morning we waited a while for the CITS office to open, and as soon as it did we discovered that it would not be financially or logistically possible to go through the minority villages on the way to Guilin in the time we had.
But apparently there was one bus a day to Guilin via the "highway". It was 9:40 am when we heard this and the bus supposedly was at 10. We ran back to the bus station to buy tickets for the bus, actually scheduled for 11.
By 1030 boarding had started and only then did we understand that this was not just any bus, but a sleeper bus.
What is a sleeper bus?
3 columns of bunks down the length of the bus, totaling around 40 people. To save room the beds are not flat. They are at a 20 degree angle and then near 40 degrees. The total length reaches around 4 ft long and 15 inches wide. In other words, very tight fitting.
So upon boarding you are required to remove your shoes and place them in a plastic bag. This was a shock to us, especially after our experiences on previous buses where smoking, spitting, food, etc. is widespread.
The Chili Pepper Bus
We finally get going and a couple hours into the ride stop for a bathroom break. One of the passengers asked to get something out of the luggage compartment.
When the compartment was opened everyone discovered that a 40 gallon jug of red chili sauce had spilled. The entire compartment and bags were covered in chili. Luckily our bags, were in a smaller, locked compartment due to our initial insistence of not wanting to leave them below the bus.
For the next hour the bus was washed down and cleaned and we departed with only half a jug of chili sauce. By the way, our bags still smelled like chili, they were just not red like the others.
We continued on the highway, a one-lane road like all the others. Bumping through construction every mile, our estimated 11 hour journey was now looking like it would be a tad longer.
At 2 am, we were dropped off along with another passenger at a roadside stand to change buses. We waited and then boarded another sleeper bus for an additional 3 hours until finally arriving in Guilin at 5 in the morning. It was 18 hours since getting on in Kaili, and a full 36 hours after leaving Kunming.
Yangshuo
Luckily we were able to find a hostel for a few hours of sleep in Guilin. The next morning we were off to Yangshuo. The city is in the midst of karst mountains and through it a nice river.
The main attraction is its proximity to the countryside and the opportunity for outdoor activities. We spent the first afternoon exploring the town. Nothing remarkable and lots of touristy shops.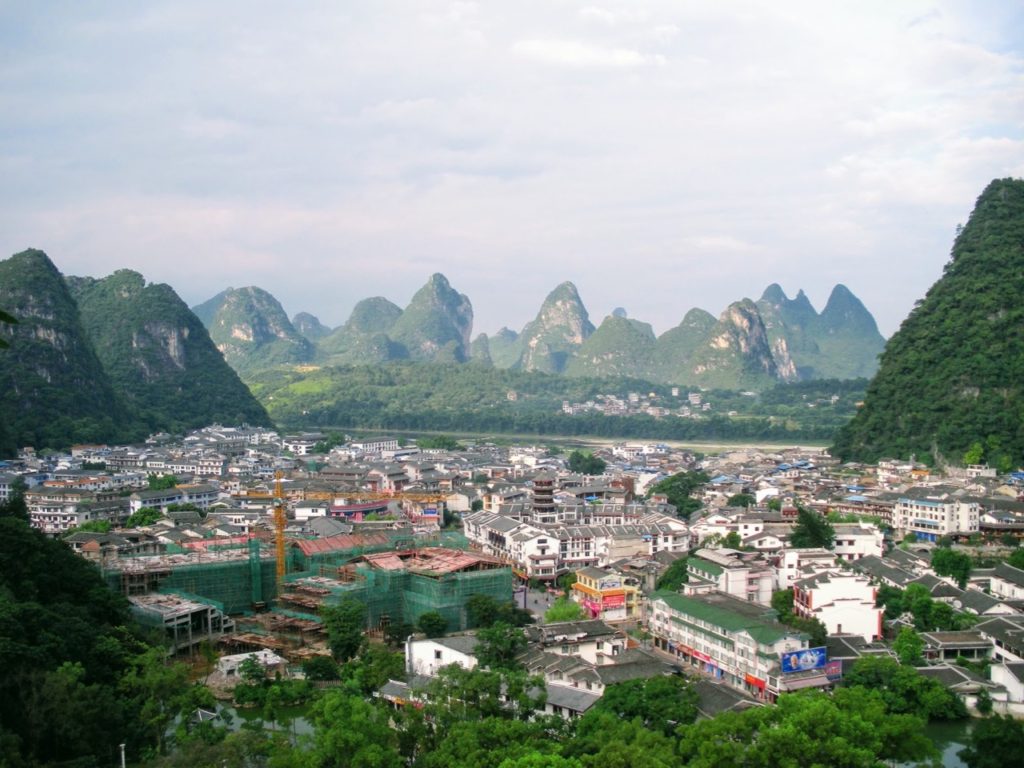 Yulong River
The next day we headed out early on our rented mountain bikes to the Yulong River. There we took a bamboo raft downstream, enjoying the quiet water and occasional splashes on what was Yangshuo's hottest day of the summer.
We continued on our bikes first to see a banyan tree supposedly 1400 years old, and then to Moon Hill, a hill with a crescent shaped hole in the middle. The climb up was forgettable, other than a local lady who would not stop following us, all the while trying to sell us water for 20 rmb (normal price 1-3 rmb).
From here we went to see the Water Cave, a huge cave of stalagmites and stalactites discovered only 10 years ago. Walking in was our first real Chinese tour with a guide telling us every 10 meters what the rocks looked like. No imagination necessary, and no information regarding the cave was imparted to us.
We took a refreshing dip once deep inside and then made our way back to the bikes. We biked back to Yangshuo through the countryside back roads where villagers kept posing for us to take pictures.
One lady went so far as to run back to her house with her child, put the child in a basket, and hang the basket on her shoulder. Very cute indeed but we passed on the picture. For dinner we indulged the local Yangshuo beer fish. Whole fish cooked in beer, ginger, and other spices. Delicious!
Guilin and Yangshuo Accommodations
Flowers Hostel– In Guilin, this cheap hostel is convenient for train travel. Our room was small but they also have dorm-beds.It is located in a small back-alley that kind of hard to find.
New Bamboo Guest House– In Yangshuo, a good little hotel; new and clean with A/C, TV, Western toilet and a good shower. Very friendly staff that can help with logistics and rents bikes too. Highly recommended. Located on Xi street: if you find Old Bamboo hotel they can take you to New Bamboo. phone- 07738815758.
Longsheng Rice Terraces
The next morning we took a bus to the Longsheng rice terraces. We climbed up to the village of Ping'an in the rain, put down our bags, and settled into our inn's restaurant to wait out the rain.
We were sitting in the clouds and so there was no visibility, so we played cards, prepared to hike at any break in the weather. The break didn't come until the next morning.
Hiking in the Rice Terraces
We were up with the sunrise at 6am, had our oatmeal, and started the hike up to the first viewpoint. The rice crop glistened in the morning mist and the bright green was all that we could see. From there we were off on the local path towards Zhonglu village.
We encountered many locals on what was clearly the one path connecting the two villages. Arriving at the village we had several local women offer us lunch. We eventually agreed to go with one and after negotiating on the price we followed her into her house.
While we had been in many poor areas in cities and several villages, this was the first time we were invited into a family's house and the poverty was striking. The majority of day was devoted to basic household duties and beer bottles were the only evidence of anything close to a luxury.
The woman and her daughter began preparing our dishes and 20 minutes later we had sautéed spinach, some green beans, and delicious potatoes. She even brought Michael some local baijiu (local liquor). After the meal it was only about 10:30 and we began our return trip.
We went back down the path to another viewpoint and then back to Ping'an to gather our things and hop on the bus back to Guilin. Here we boarded our 7th and final sleeper train in China。
hi loyal readers, after a long while we are finally catching up…trivia #2 questions still up for grabs. 🙂 d&m