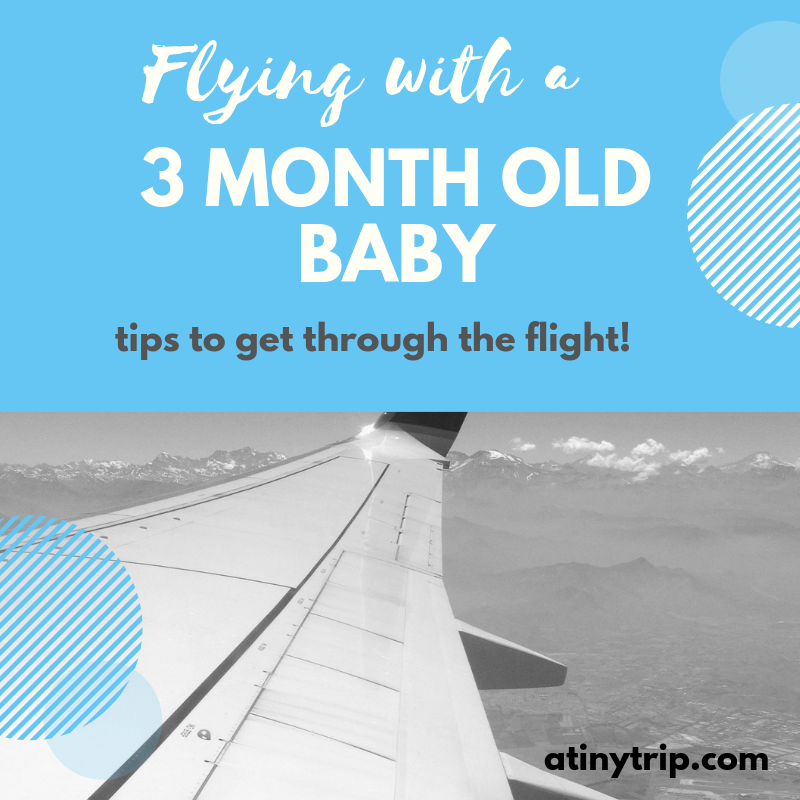 Are you thinking of flying with a baby? Considering your first flight since becoming parents? Concerned that you may be dealing with a lot of crying, bothering other passengers, lugging too much gear through the airport?
Don't worry! This guide will help you plan your first trip with a 3 month old baby! This is the detailed play by play of my solo flight with a baby, and a few thoughts. Read on for tips on flying with a three month old baby!
This post may contain affiliate links. Thank you for supporting our work.
My Solo Flight with a 3 Month Old
It was one of those tiny planes that was incredibly loud, tiny and uncomfortable. A guy helped me carry my backpack on the tarmac and up to the plane. We had a free seat next to us (lucky!), and across the way sat a big-boned man that would end up really helping me out.
Baby Boy N woke up as we were ascending, so I fed him. I changed him on the seat next to me and he was so so happy. I think he was excited to look around. After a while he fussed a little, a bit of gurge (=regurgitated milk) on my shirt (of course).
Then we did a bit of pacing up and down the aisle in the Moby wrap carrier, and finally I just sat down because he did not want to sleep. With a bit of rocking though he finally did fall asleep and didn't wake up until we landed.
The man from across the aisle helped me carry my bag all the way to border control, which was really far. The border control guy proceeded to tell me that my carrier was really bad (thanks?).
Another guy got my suitcases on the cart for me and we were out of there. As you can tell we got a lot of help which was great!
Solo Parenting for the First Time
Our second day in the US of A, I was left solo with Baby Boy for the entire day! I changed every diaper, burped, played, walked, bathed, dressed and of course fed, all day long! I don't know how single parents do it, because the day was not over and I was exhausted. At 7pm I was dead, but it was time to go to a big holiday dinner.
The kid was a trooper; sprung a huge grin for all the guests that came to oooh and aaah over him. Of course, 15 minutes after we got there, I had to feed him. Luckily my new nursing-friendly dress did the trick.
Baby Boy did excellently, sitting in the car seat and then being held by different people while we took turns eating. The only problem was that he missed his evening nap, because he was too excited looking around at all the activity, and consequently at 9:45 the kid crashed into a cry. I took him home for a feeding and bed, happy that the day was finally over, and not quite ready to do it again the following day.
Our Time in Houston
Baby Boy did wonderfully on our trip. He's weathered several holiday dinners, complete with playing baby hot potato (i.e. pass the baby around). He's smiled and cooed for the guest to enjoy.
He went to Memorial park for a walk, survived the Galleria mall, and nursed in the car more than ever. We dragged him around in the infant car seat: into the car and out, over and over.
We took him for a neighborhood walk, in the moby and in the stroller. He's been suffering a bit from the AC, but at least we're finally getting use out of all those baby hats.
Baby Boy went shopping with Mommy to lots of places, including Target (because we wouldn't want to go back on our promise). And he's been sleeping by himself in the Pack n Play (not as well as usual, but perhaps he's growing, so we'll forgive him).
The fun part though is lots of new toys: a bouncy chair and a swing, and lots of new books and a giggle toy that even cracks up his mommy.
Our last few days in the States were super fun because Daddy/Hubby M joined us. (And everything is just better together!)
We had a great little busy weekend with lots of visits and friends (and packing). So even though we had the usual stress of way too much luggage to pack, and somehow I always find myself writing thank you notes just before we leave (because the mail in Mexico doesn't work), it was a crazy rush.
It rained. Did you know there was a drought in Texas? So obviously on our very last day, when I still need to run to Target one more time, and buy a few more jammies for our Baby Boy, it was pouring! and flooding! and NO ONE could complain!
The Return Flight with another adult
Coming back to Mexico was great, in many ways. Mostly because flying with another adult made the trip SO much easier.
We drove in the rain to the airport. We arrived with plenty of time to go through the motions with the machine check-in, even though it does not work for infant luggage (which is free BTW). Eventually we got some human help to send us on our way.
Our First Trip at 3 Months
The trip was a success. I completed one goal- to drink a pumpkin spice latte. How is it possible that I grew up in New England and never had one before? Regardless, it was delish!
I didn't do so well on my goal to leave Baby Boy for more than an hour; actually I failed at it. BUT, soon! I WILL do it! We got to see lots of people, found out more friends are expecting (bringing the total to 7 babies on the way- insane, right?), and I didn't cook anything for 2 weeks- that was fun!
Since we've been back, I've unpacked 250 lbs of luggage (4 bags of 50 lbs + 2 carry-ons + 2 personal items). We have a lot more toys and books now, so I can keep myself entertained. And I am reading like crazy: sleep training, starting solids, potty training- I will be prepared, kind of.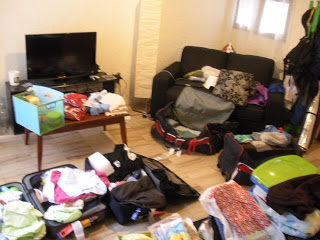 Tips for Flying with a 3 Month Old
People are generally very nice and helpful when they see a mom with tiny baby; enjoy and take advantage of the help.
A 3 month old needs to be held all the time; a carrier was very helpful in getting around the airport, through security, etc.
To help with ear pressure, feed the baby at take off and landing.
If you can, having another adult with you makes the trip a lot easier. For example, if you want to go to the restroom, or grab something from the diaper bag, another person holding the baby makes this much easier on a cramped airplane. (We did on the way back and it was much more bearable).
On small airplanes only certain rows have extra oxygen masks (for your infant), find out ahead of time to assure a better seat assignment.
Keep your carry-on a small as possible; most airlines allow a diaper bag in addition to your carry-on, but two bags with an infant can be a bit difficult to manage.
Have you flown with a 3 month old baby? How did it go? What other tips do you have for parents flying with a baby?