Last we left off in Amritsar, so today we're back with a one week Dharamshala itinerary. Dharamshala (also written Dharamsala, Dharmshala and Dharmsala) is the winter capital of the State of Himachal Pradesh in India. It is located in the hills of the Kangra District.
Dharamshala refers to the main town but it is the surrounding villages where you can really settle down for a few days to explore the beautiful mountains of Himachal Pradesh, covered in Deodar cedar trees.
For tourists, places to visit in McLeod Ganj are where it's at. So take in the McLeod Ganj tourist scene: take a class, relax, and enjoy the mountains of Dharamsala.
One Week Dharamshala Itinerary Overview
The area around Dharamshala, specifically, McLeod Ganj, Bhagsu Nag and Dharamkot are the perfect area to delve into Indian and Tibetan culture. There are a wide array of classes offered that last anywhere from 3 days to 6 months and more!
Here's a sample itinerary combining a 5 day class of your choice along with the main cultural attractions around Dharamshala.
Dharamsala Itinerary
Travel Day
Sign up for classes- cooking, massage, yoga etc. Class day 1.
Class day 2 and Visit the McLeod Ganj Upper Complex
Class day 3
Class day 4 Hike to Triund
Class day 5 and Visit McLeod Ganj Lower Complex
Travel Day!
When to Visit Dharamshala and McLeod Ganj
Himachal Pradesh is one of only three Indian states that have two capitals. Shimla is the summer capital and Dharmashala is the winter capital! Dharmashala in the winter does get snow and is quite cold.
Summers are hot and rainy. During the British Raj, the British rule over India, Dharmasala was a Hill Station, a town in the hills where diplomats from Delhi would escape the summer heat.
Sure enough monsoon rains in the summer keep temperatures lower (not low, mind you). If you're planning to spend a week in Dharmashala, spring and fall are the best times!
Travel to Dharamshala
So a 4 hour train and 4 hour bus ride later, we arrive in Dharamsala (from Amritsar). It is too late to go up to McLeod Ganj, where the exiled Tibetan community resides, so we crash for the night in a horrible guest house and go up the next morning.
After a delicious breakfast of hash browns, sautéed veggies, eggs and toast; we set about to look for a place to stay. Michael walking accidentally down the wrong road, (and after asking a shopowner) was lucky enough to be tipped that if we keep heading up, we will arrive in the quiet village of Dharamkot.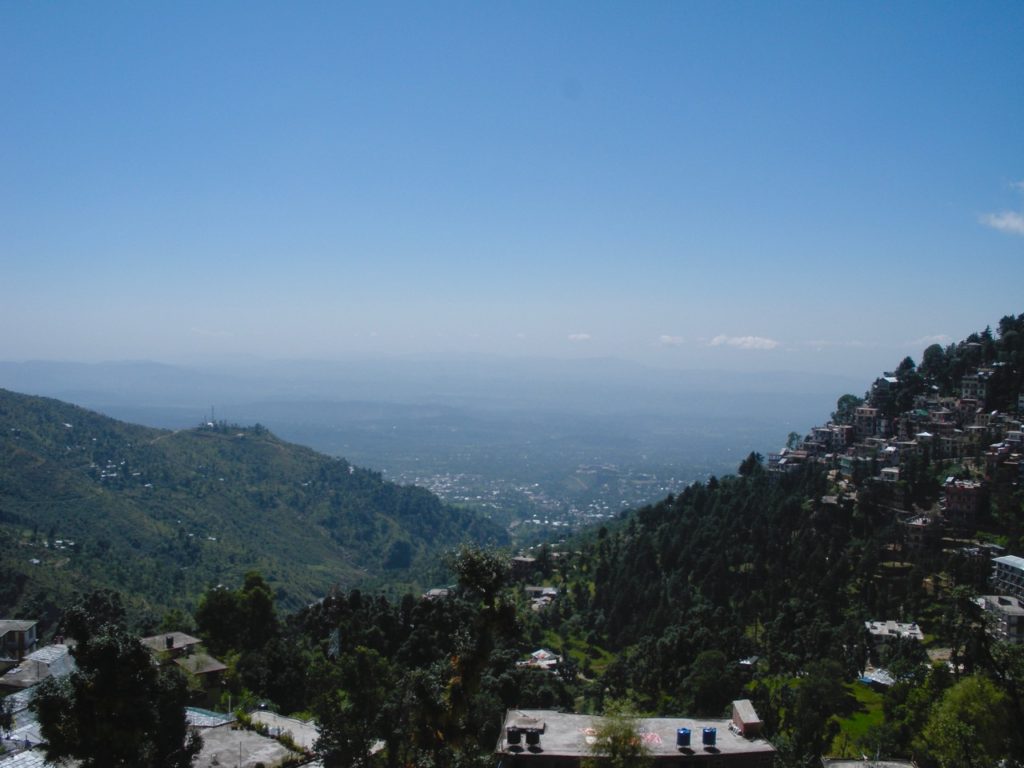 Dharamkot
Sounding like it's just what we're looking for, we climb up and over to the other side of the hill with our packs and stumble upon one of the nicest guest houses we have stayed at: huge windows all around overlooking the village and a balcony of our own.
Happy to be in the mountains again, we set about exploring, walking across to the neighboring village of Upper Bhagsu and working our way down to Bhagsu Nag- where we found out where all the Israelis have been hanging out.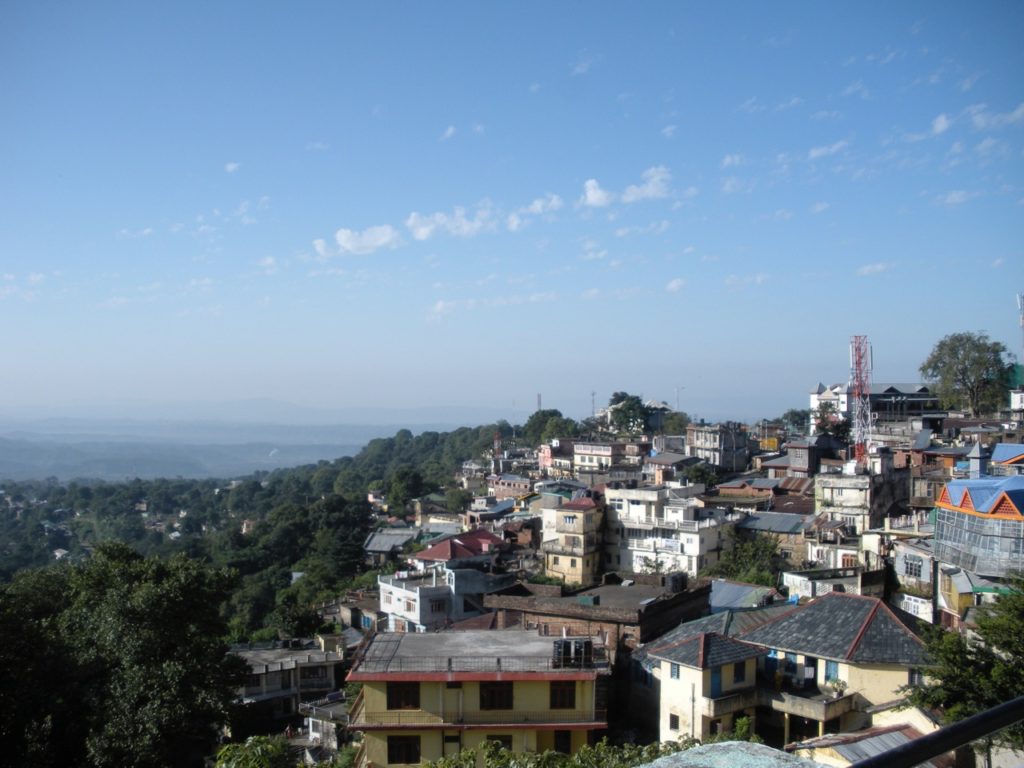 From there is was a walk around to the other side of the hill and we were back in McLeod Ganj. This is the walk that would frame the remaining days of our week, as we embarked on a cooking course and a massage course.
Tips for Dharamkot
Use this as a cheap place to stay with a good view, quieter than McLeod itself
Massage course- down the trail (1800 Rs for 5 classes / 2 hours each); ask for Kamal
Iyengar Yoga Center– large yoga complex
Other classes available such as jewelry making/knitting, etc.
Chabad House– for internet, shabbat dinners, etc.
Snow White Lodge- upper Dharamkot; nice family; 200 Rs/night, double with attached bath and hot shower; no sign- just ask for Deepak
Milky Way Cafe– good Israeli food, run by Sanji
Cooking, Yoga and Massage Courses in Bhagsu Nag
The following morning, I went down to a yoga class in Bhagsu where the teacher proceeded to fold me like "cloth". Then it was time for cooking class with Rita.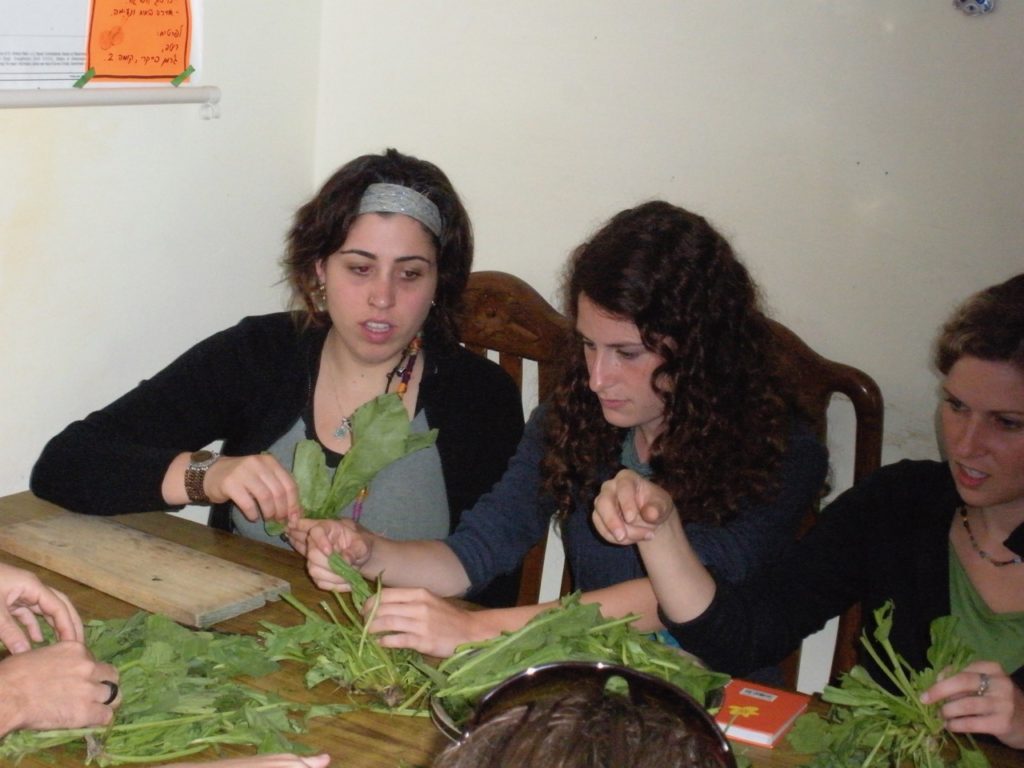 First day, we learned to make a Thali (the Indian dal bhat that consists of lentils, curry, rice and chapati). In the next couple of days we also learned how to make Malai Kofta (potato cheese kube-like balls in sauce), Alu Paratha (potato stuffed flat bread), Samosas, and Palak Paneer (Spinach and Cheese). Yummy!
We ended the day back in Dharamkot where Michael took an Ayurvedic massage course. Needless to say I was not complaining about having to be the model for the next 5 days!
Tips for Bhagsu Nag
Like Dharamkot but busier, has many mid-range accommodations (Best Western etc.)
Rita's cooking classes– 700 Rs for 3 sessions/person; includes lunch after each class.
Unity Pizza– amazing pizza for a good price
McLeod Ganj Upper Complex
In between cooking in Bhagsu and massaging in Dharamkot we had some time in McLeod Ganj, where we discovered the Tibet government bakery and a Momo shop making delicious chai, perfect for our afternoons.
In 1959, the 14th Dalai Lama, Tenzin Gyatso, established the Tibetan exile government. The following year, the Central Tibetan Administration was moved of Dharmashala!
The town of McLeod Ganj is famous for being the seat of the Dalai Lama, the Tibetan spiritual leader. Here you will find the Dalai Lama's temple, Tsuglagkhang, a monastery and Tibetan government buildings.
We got to see the main temple area, the Dalai Lama residence, and the Tibet museum, telling the story of the Tibetan exile, which was quite profound.
Another day, we got a tour of a hand-made paper factory run by the Tibet welfare office, by a young Austrian volunteer. It was really interesting to get some insight about how the exile government is run.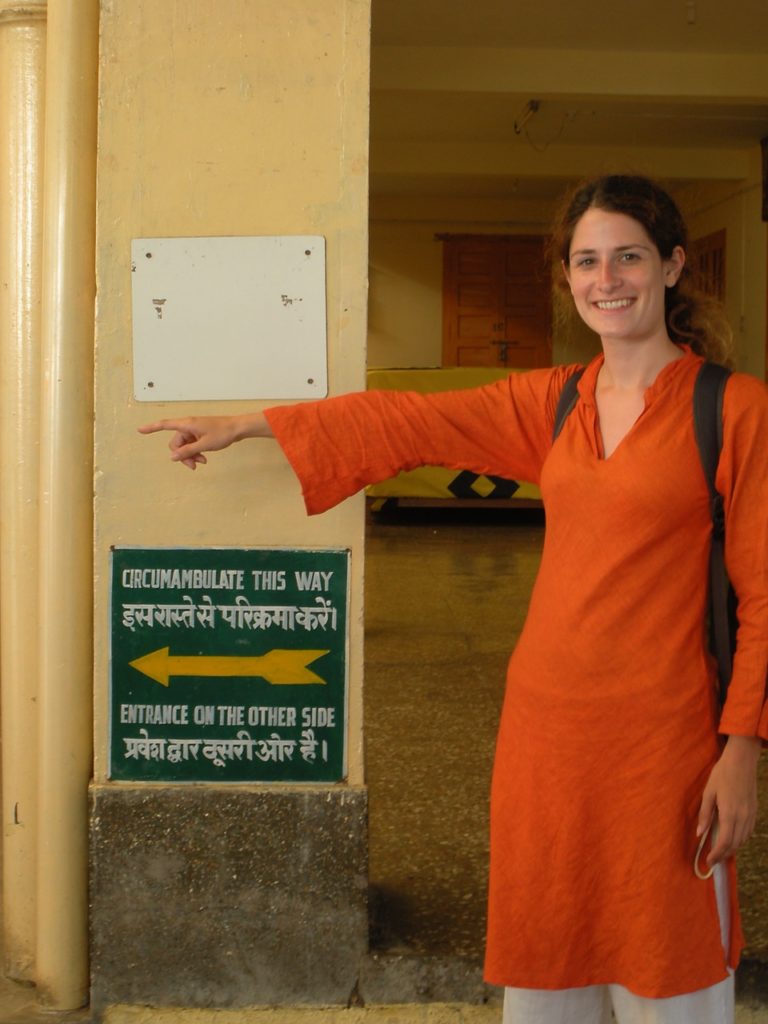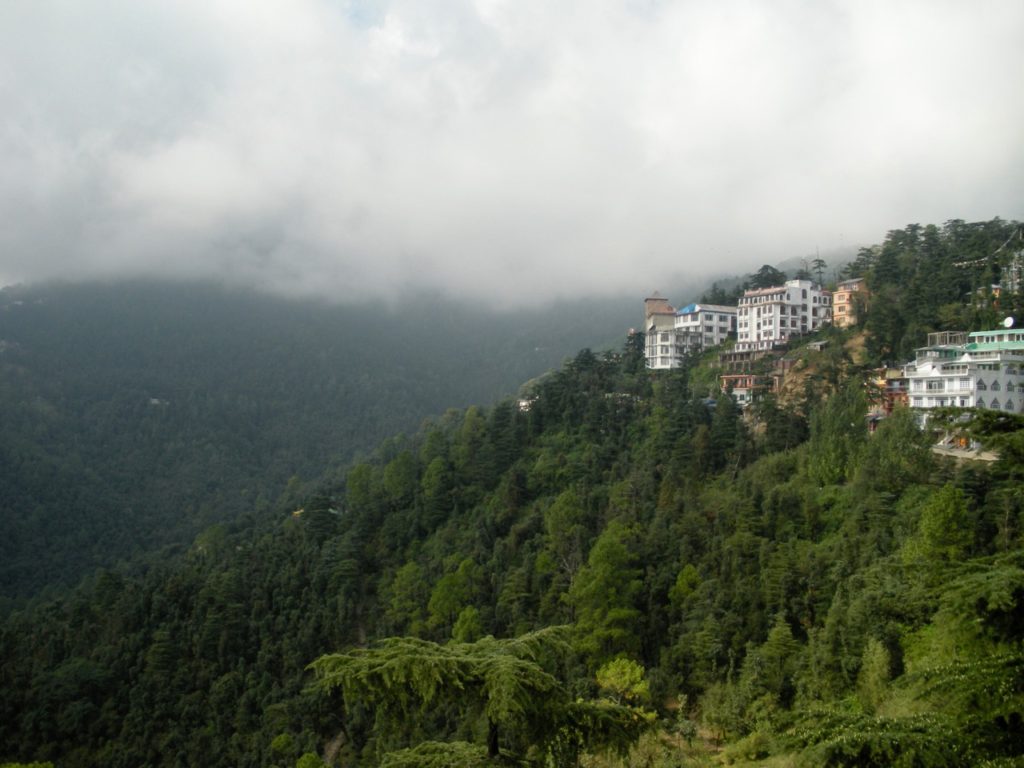 Surprise!
[Michael here] So today was a surprise. After a relaxing morning we walked down to Milky way cafe for brunch. They make delicious sabich pitas, shakshuka, hummus, etc.
After our meal as I walked along the path down towards the massage school I see Dru and Amy, a buddy of mine from home and his sister. We knew we were both in the area, but hadn't connected by email in a few days.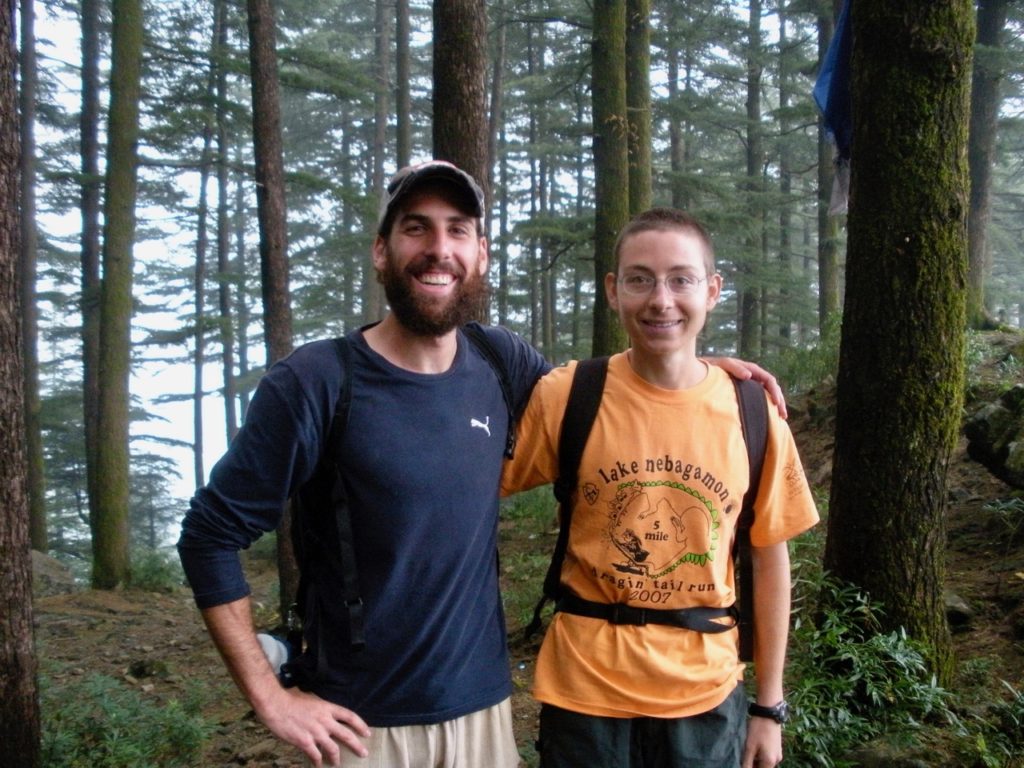 We spent the afternoon all together, chatting and a short walk around Dharamkot. We planned a hike for the next day up the mountain to Triund, for a view of the other side.
Triund
With a clear and sunny morning we started off up the mountain. A pleasurable hike with beautiful views above dharamkot and bhagsu we kept climbing. After just over 2:30 hours, we were at the top.
Just as we were approaching the clouds had begun to roll in and our view of "the other side" was covered in thick clouds. We enjoyed a chai before heading downhill.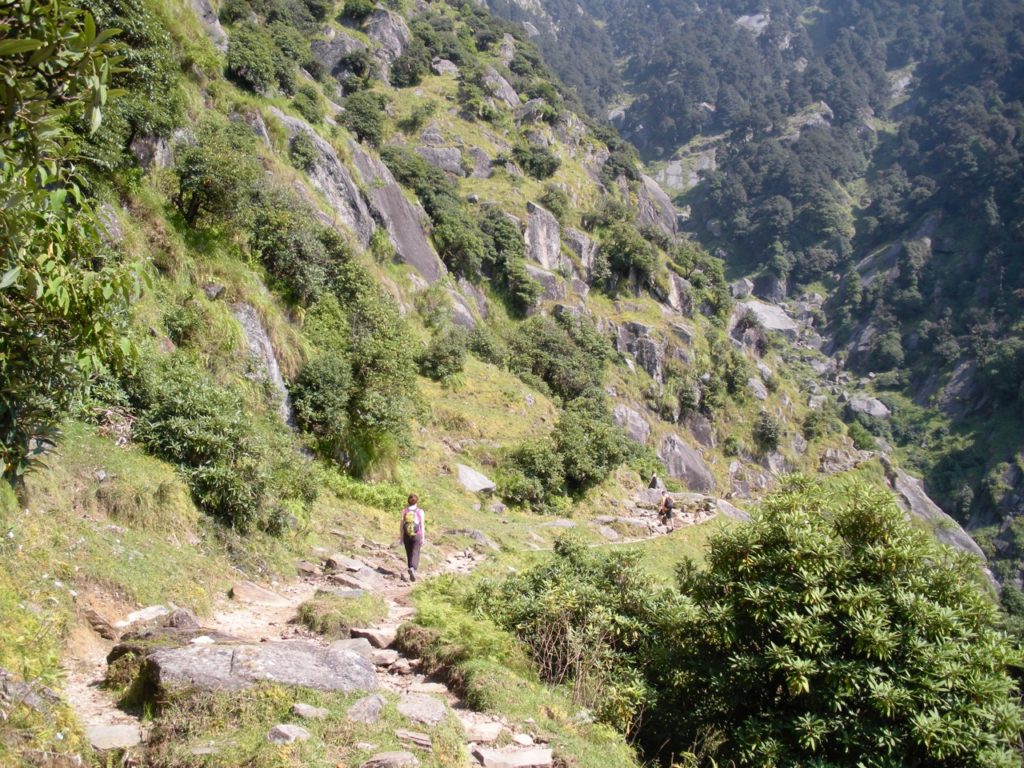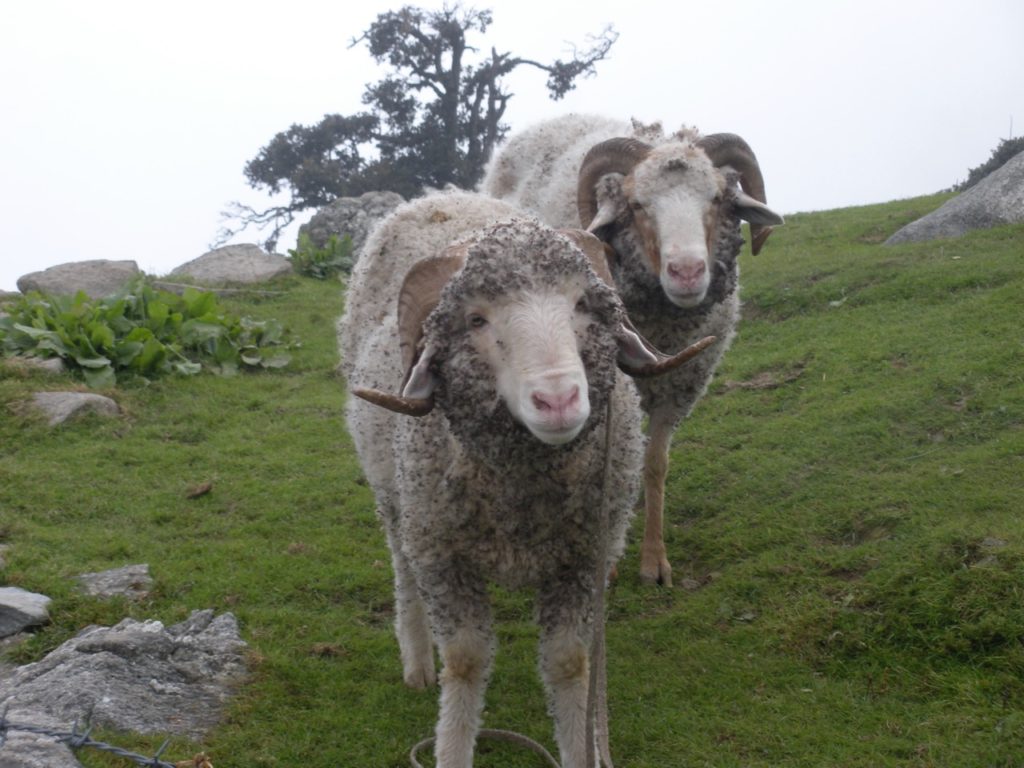 In the last couple days it had begun raining quite early in the day so we made our brisk return. Daphna and I had a delicious sabij sandwich each and then enjoyed a well deserved rest.
McLeod Ganj Lower Complex
The next morning the four of us met for breakfast. With full bellies we headed down to the Tibetan complex housing a cultural museum, a medical institute, the supreme justice, a library, and other Tibetan government related buildings.
Some interesting things we saw included hundreds of samples of Tibetan herbs and minerals used in Tibetan medicine, ancient buddha statues and textile arrangement, among others.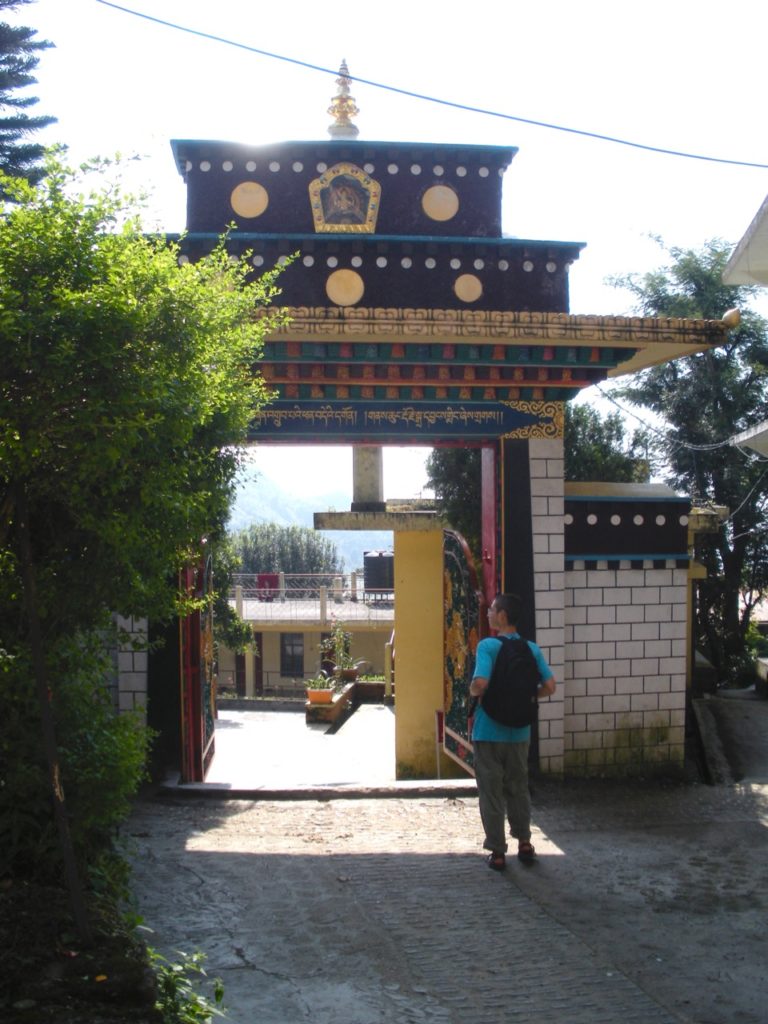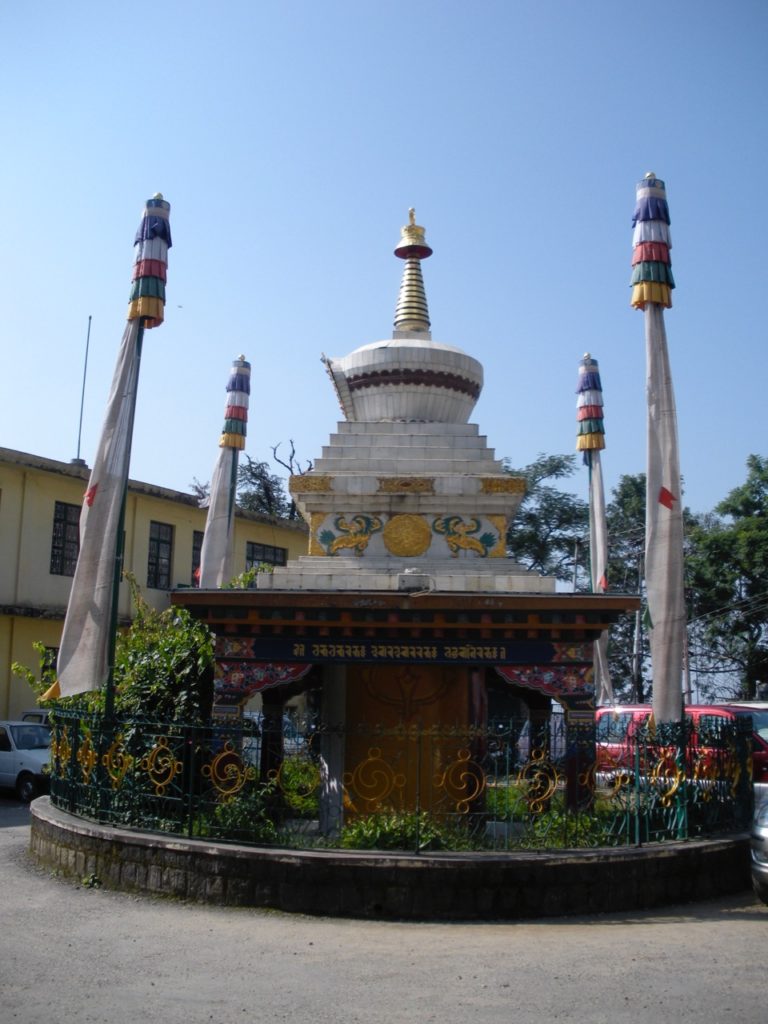 Tips for McLeod Ganj
Attractions in the Main Complex– including: Dalai Lama's residence, Tsuglagkhang Temple and Tibet Museum (about Tibetans' plight from Tibet since the Cultural Revolution in China)
Attractions in the Tibetan Government Complex (bottom of hill from Mcleod, 30 min walk): Museum of Tibetan Medicine (really interesting), Tibetan Cultural Museum (Here you can take many classes such as Tibetan Language, Buddhism, etc.)
Hiking: walk to Triund, about 4 hours round trip- nice views especially on a clear day; take lunch. Other options include further overnight hikes to Chamba; check with locals for guides, etc.
Momo cafe- good for chai and momo's
JJI cafe- really good breakfast JJI breakfast or farmer's breakfast
Tibet bakery- great bread and donuts and muffins, etc. try something new every day, run by the exile government.
After building up an appetite at the complex it was time for lunch. We walked the 2.5 km to Bhagsu, not a big deal, for a special pizza. Best pizza on our trip so far.
Then it was a good-bye to Dru and Amy as it was our 8th and final night in Dharamkot. The next morning we would be off to Manali-Vashisht area on an early bus…
More Things to Do in Dharamshala
Need a little help getting organized? Then, you could definitely take a tour to get you started exploring Dharamshala and McLeod Ganj!