Hi folks, lots of internet troubles lately, please bear with us as we get caught up updating…d&m
Halfway through the ride, we realized that our bus was headed for Xiaping (new Dali) and so we were not too surprised when we were dropped off at east gate of Dali, a 20 minutes walk from Dali's bus station and the main tourist area.
Exploring Dali
Nevertheless, walking in, we realized that this was a great place to be! It was another small walled city with cobbled streets and a community atmosphere.
Dali's main street was another almost shock, we found out where all the Chinese tourists had been hiding…We put our luggage down once again and the next morning got up to explore the town.
Michael was on a mission to get a hat, so we used it as an excuse to explore town: we went from one shop to the next, past the main tourist road, to the market, past local shops and eventually success.
Meanwhile it was great getting to know the little streets, seeing women in the traditional Bai dress, and especially finding one amazing bakery: No. 88. Our first time eating real bread in China! It was delicious and we would be back…
Our 2nd day in Dali was an adventurous one. As a warning, this posting contains some details you may find disturbing. It was essential to get an early start for we had a long day with a tight schedule ahead of us.
Biking Around Dali and Erhai Lake
We began the morning at Cycle Dali where we rented a couple bikes for the day, after a brief stop at THE bakery.
As a side note, this bakery opened only a few weeks ago and the German couple who own it, have decked it out in Ikea furniture and dinnerware. to say the least, we felt at home. They had real, dense, delicious french bread, homemade jams, cheeses, and many cakes, that by some miracle we never tried.
Our bike ride began along the Yunnan-Tibet highway, a 4 lane luxurious highway. This road ended as soon as we began enjoying it. We passed by the Three Pagodas of the Chongsheng Temple Park. Our destination was a small village on the northwest side of Erhai Lake, outside of Dali.
We took the quieter of the two roads yet throughout the day we were overtaken by 50 buses, 40 farm vehicles, 30 motorcycles, and the occasional local on a bicycle.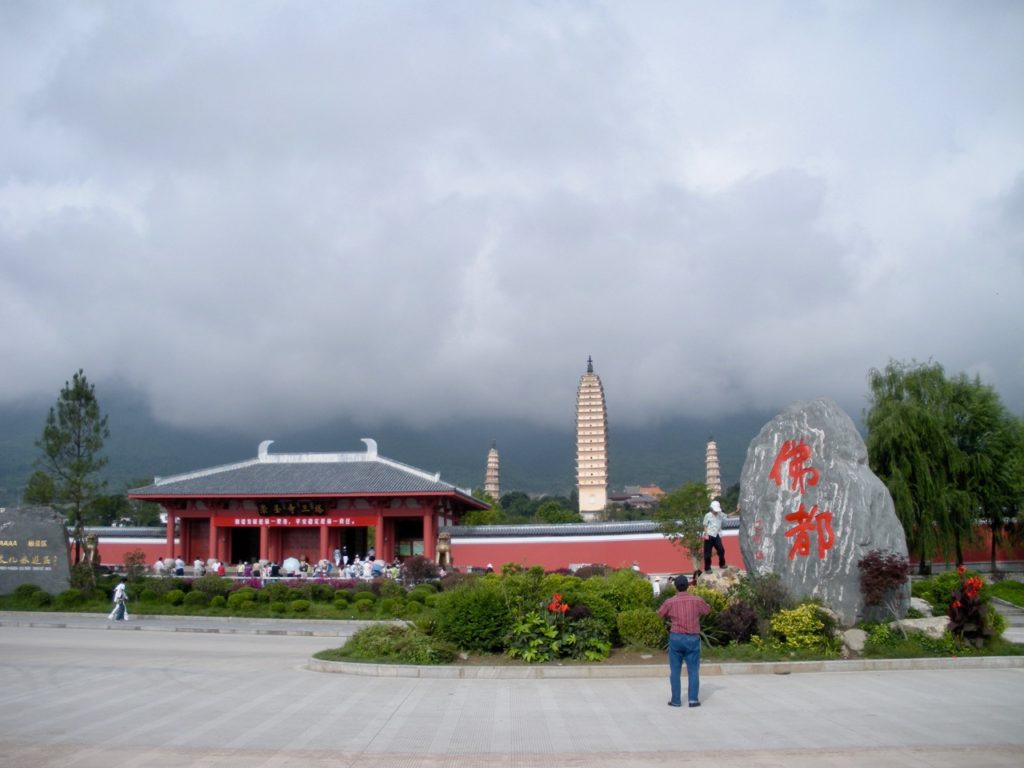 An incident
About 90 minutes into our ride, a small truck passed us going at a noticeably slow 10 mph. 20 minutes later we see this same truck slammed against a tree on the side of the road. One other tricyclist had just stopped moments before and I got off my bike to observe the situation.
Blood was everywhere. The man in the back seat was trying to wake up and moaning, no injuries visible. The driver had glass all over his face, but ended up getting out of the car by himself. But the man in the front was in bad shape.
Daph and the tricyclist were calling the police/ambulance. For a second, I thought, if I don't do anything here this man will die. All we had was a bunch of toilet paper that i got from Daph and told the man to push against his face.
I got in the street, waved my yellow bandana to the oncoming buses, begging them to stop. 2 of the drivers waved their heads no. Finally a truck with 6 men inside stopped; they got out, stunned, and looked. 3 got out their phones. None approached closer than 3 feet from the vehicle.
Ten minutes later the police showed up. Again, stunned. 4 policeman, took out their phones. I asked them, when is the doctor coming. No answer. One of them then got a camera and began taking pictures of the car and the men. No help at all.
The police shooed us away, so we left. I was angry. Nobody really cared to do anything. Nobody would even stop to see if they could do something. We met a friend later in the market who said that he saw an ambulance headed the other way. we hope this was the passenger headed for a hospital???
Market near Erhai Lake
Our day continued as normal after this and the market was ok. Nothing to really write about. The ride back to town was long, uphill, and hot. We explored some lakeside villages, stumbled on a temple or two, and bought some fruit along the way.
I think in total we biked between 60-70 km. We got back to Dali just in time. We traded in our bikes for our bags and headed up Congshan mountain on the west side of Dali.
Cang Shan (Cang Mountain), Dali
For the first time we opted for the chairlift. We made it to a hostel called Higherland Inn. It sits up on the mountain, has only 7 rooms, and an amazing view of Dali and the lake below, as well as the mountains on the eastern shore of the lake. It was an adventurous, exhausting, and rewarding day.
At the crack of dawn we got up to see the sunrise. We stepped out of our room for a beautiful ten minutes before returning for a few more zzz's.
In the morning we porridge-d ourselves and then walked and walked and walked. The lateral trail to the north was beautifully paved for some of the way.
Some small waterfalls dotted the trail and the first leg our hike culminated at a remote temple that few make it to. We had to backtrack and had a delicious sandwich of local pita, egg, veggies, and Dali cheese (yes, cheese in china, amazing). We washed it down with some tea and then continued on our trek, this time south.
Our goal was to reach a waterfall area called Seven Dragon Maiden Pools, a good 6 km away. We got as close as we could and got some great video and still footage of the 7 storied waterfall. The trail down from the top was a little iffy but we made it. We returned to Higher land for a well deserved meal and rest.
The next morning we headed down the mountain. The view coming down the chairlift was amazing: we were above the remnants of the night's rain clouds just as they were clearing from above the town. The air was crisp and the sun was slowly emerging, giving the view a purple tint.
Dali Tea Tasting
We did "errands" in Dali: tea tasting and shopping, supermarket crackers and cookies, and THE bakery one last time.
Tea tastings are very ceremonious events. There is this whole bullfrog and washing and spilling, etc. something about heating the cups, washing the tea, brewing and re-brewing. It was quite an experience! As soon as we can get a detailed explanation we will share (or if someone knows, please comment and tell us 🙂 ).
We jumped on our Kunming bound bus and 5 short hours later we were there…
Where to Stay and Eat in Dali
Accommodations:
Friends Guest House- the area is not great but is very close to south gate. shower not great but other rooms may be better. 50 rmb/double en-suite with western toilet. www.friendsdali.com
Jade Emu- the manager's name is Dave Shaw (australian). nice and new place with wi-fi, kitchen that can be used, a little pricier than other places and also an 8 minute walk or so from the western gate. www.jade-emu.com
Food:
No. 88 Bakery– delicious german-owned bakery, 13 rmb breakfast, great coffee and cakes, on Bo-ai road very close to Cycle Dali, sandwiches delicious, fresh bread…yum!
Tibet Cafe– good sandwiches, free internet if you buy something. also has rooms not sure the quality or price. on foreigner street.
Stay and Eat on Cangshan (Mountains)
Higherland Inn– nice room, nice (shared) shower with western toilet. 70 rmb/double. located in the hills above dali (Congshan). great view of dali and some nice hikes that can be done from here. 2 or 3 nights would be great. small place so should book ahead, offers family style meals which are slightly overpriced (25 rmb) but fresh, healthy, and not so oily. owner is pretty nice lady. breakfast good, notable is the porridge.
Pine Haven Cafe– just below the stairs to Higher Land is a small cafe with good fresh sandwiches and juices, if you're staying on the mountain it's a great lunch option.