These Sichuan highlights are quintessential China. When a Westerner thinks of China, we think Pandas, we think Buddhas, we think yummy food. All of those can be had in Sichuan Province in Western China. Join us at the Panda Research Base in Chengdu. Visit a giant Buddha in Leshan, and end with a true Chinese mountain pilgrimage at Emei Shan (Mount Emei). All the details inside.
Chengdu Panda Research Center
Early morning we made our way to the Giant Panda Breeding Research Base. We were the first to arrive that morning and briskly set off to find some pandas. And we did!
The pandas were amazing. The little ones, that were not so little, at almost a year old, were playful and cute.
When we got to see the big ones it was meal time and we were mesmerized by the way the pandas meticulously took off one leaf at a time from the bamboo and then stuffed the bunch of leaves into their mouth.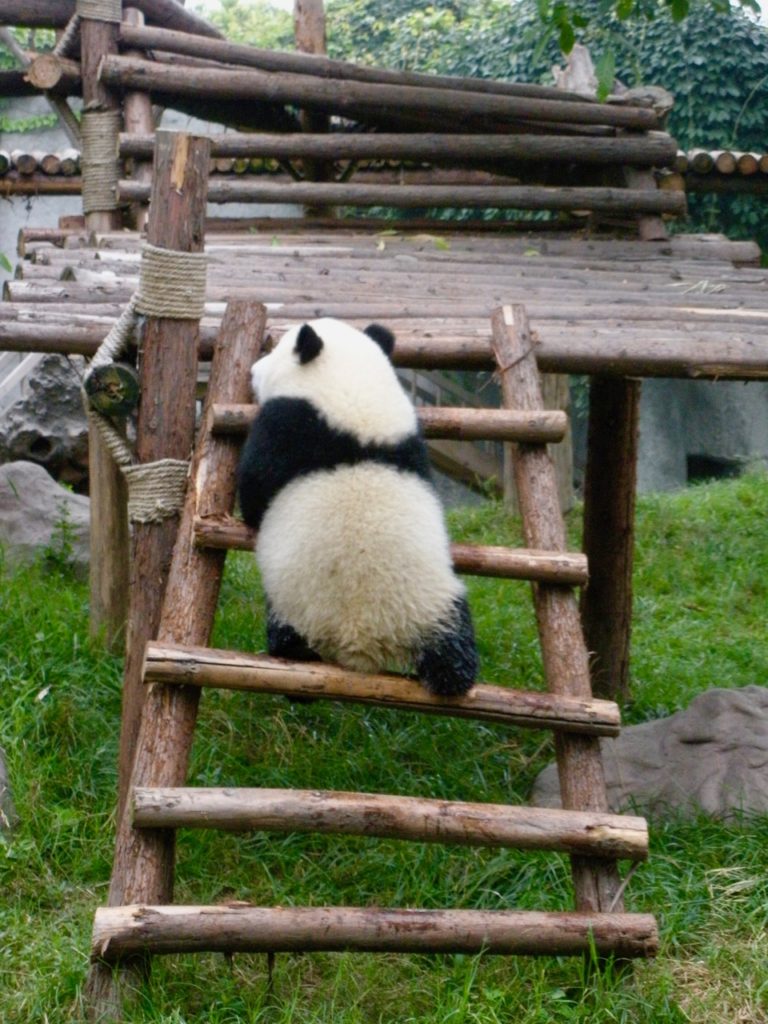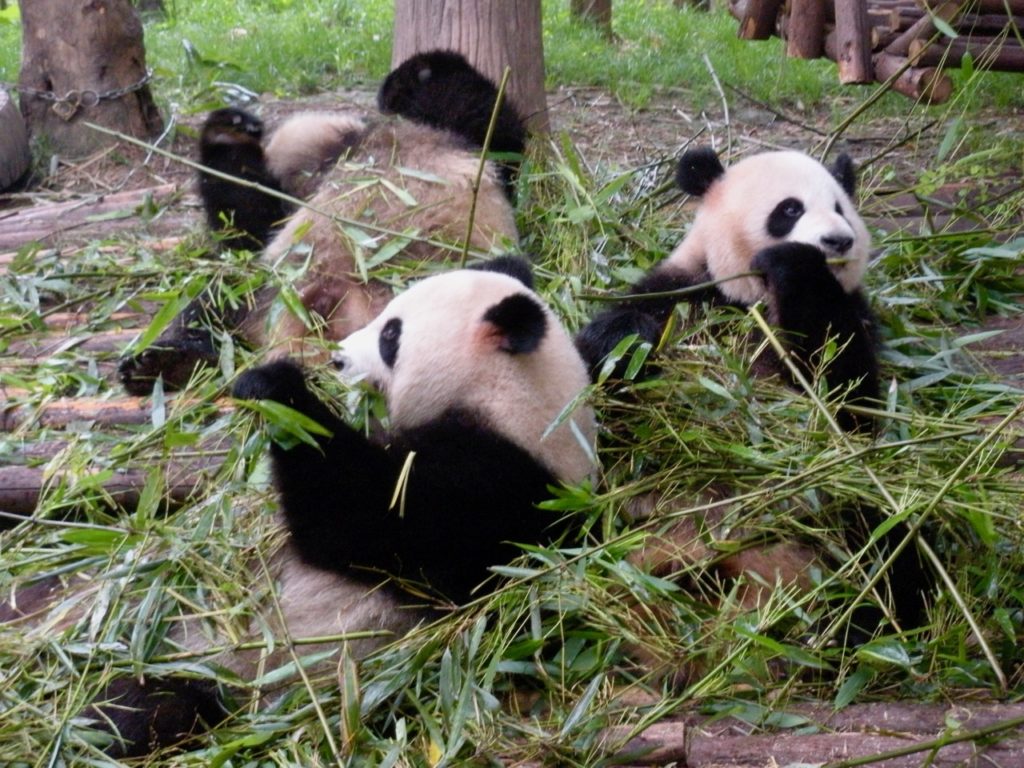 From there we were off to try Grandma Chen's Mapo Dofu (tofu). We had had this before, but this was the original spicy Sichuan style and Michael had a mouthful.
Making our way to our next destination, we stumbled across chengdu's bike shop street. Needless to say, Michael had a heyday. We explored, tried, and finally test-rode Dahon folding bikes. Only at the last minute did we fore-go a purchase due to logistical reasons.
Chengdu People's Park
After a long walk we made it to People's Park, a large Chinese park with everything from street performances, to rides, to ballroom dancing on the concrete.
At the suggestion of the lonely planet we went into a "funhouse" that ended up being something like a 10 yr olds homemade haunted house.
We finally sat down in our first tea house and got to play one of the Chinese card games we learned.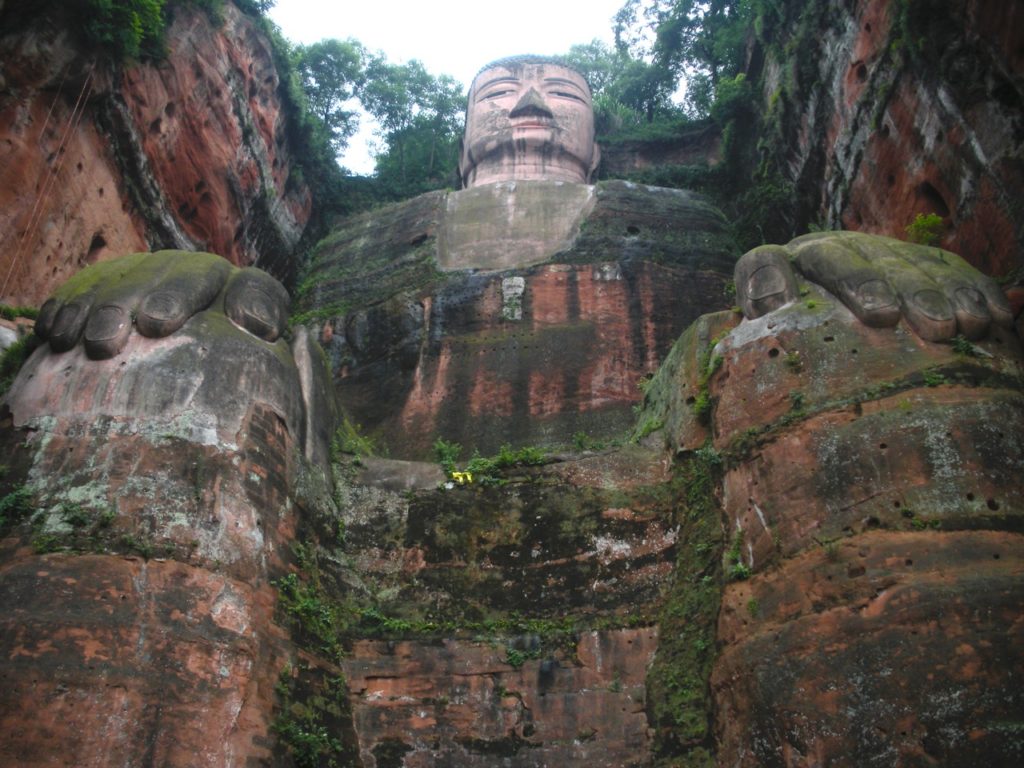 Leshan
Today is another milestone. We trekked for the first time with our big packs! After several buses from our hostel in Chengdu to outside Leshan, we arrived at Dafo, the Grand Buddha.
The story goes that a monk started carving out a Buddha out of the mountain overlooking a river hoping that the buddha would calm the currents. Some 90 years later when the Buddha was complete, the river had calmed (apparently from the leftover chiseled rock falling into the river).
The buddha is huge, 71 meters high. Standing at the bottom we couldn't even reach the top of his toe! Once again there were several gardens to explore around the Buddha, though it wasn't so easy to do with our packs on our backs.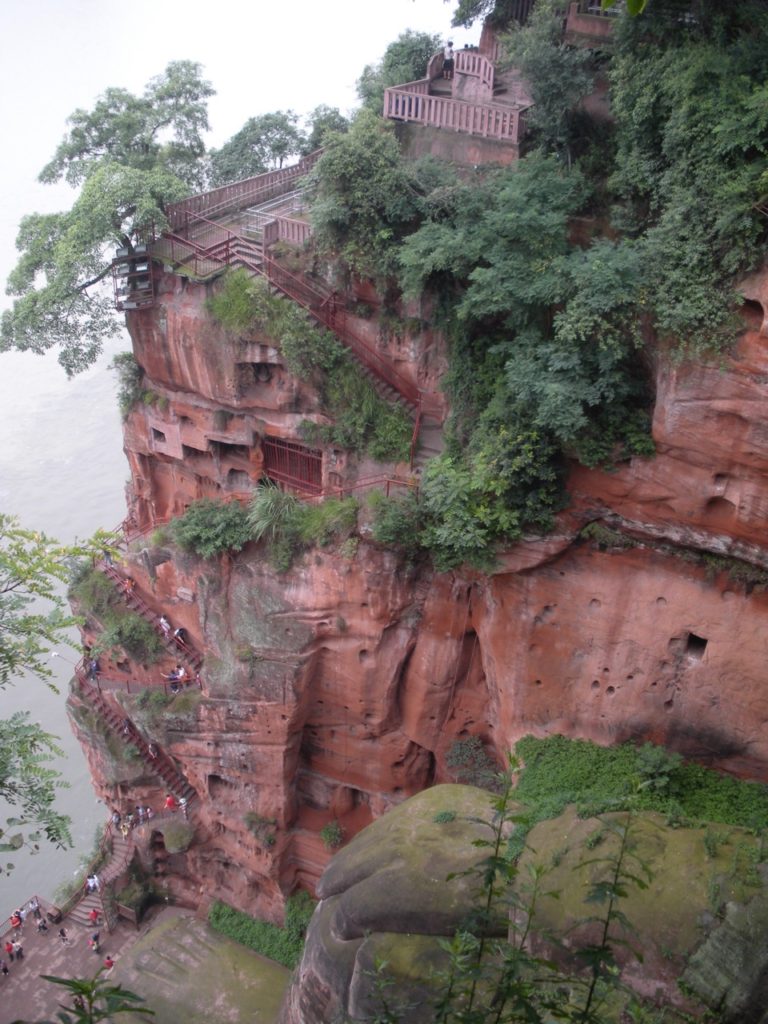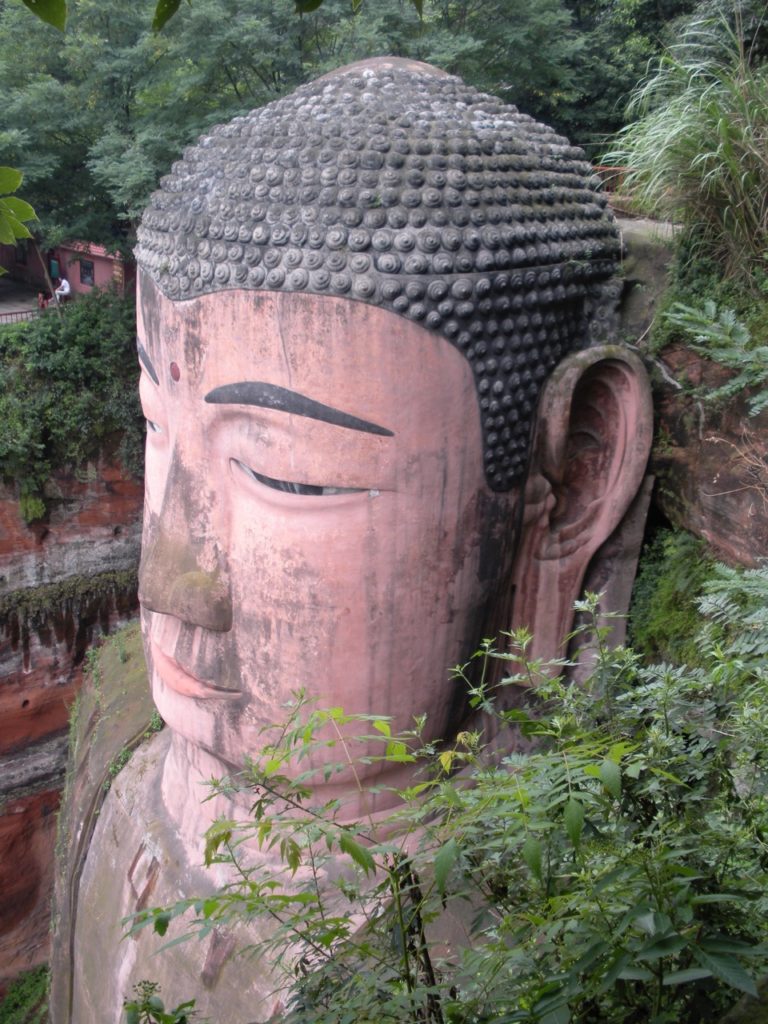 Emei Shan
Several buses later, we arrived in Baoguo village. Another early morning, walking sticks in hand, we began the ascent of Emei Shan, a holy Taoist and Buddhist mountain.
Climbing Mount Emei
A guy named John, from our hostel wanted to tag along with us. We had no intention of making it to the top on the first day, but he did. Subsequently, the first half of our climb went by very quickly.
Along the way signs warned us of wild monkeys prepared to steal our stuff. At the Elephant Bathing Pool Monastery the monkeys were around and approached the shop we were sitting in. Michael and the shop-owner beat their sticks against the ground and the big monkey scurried away.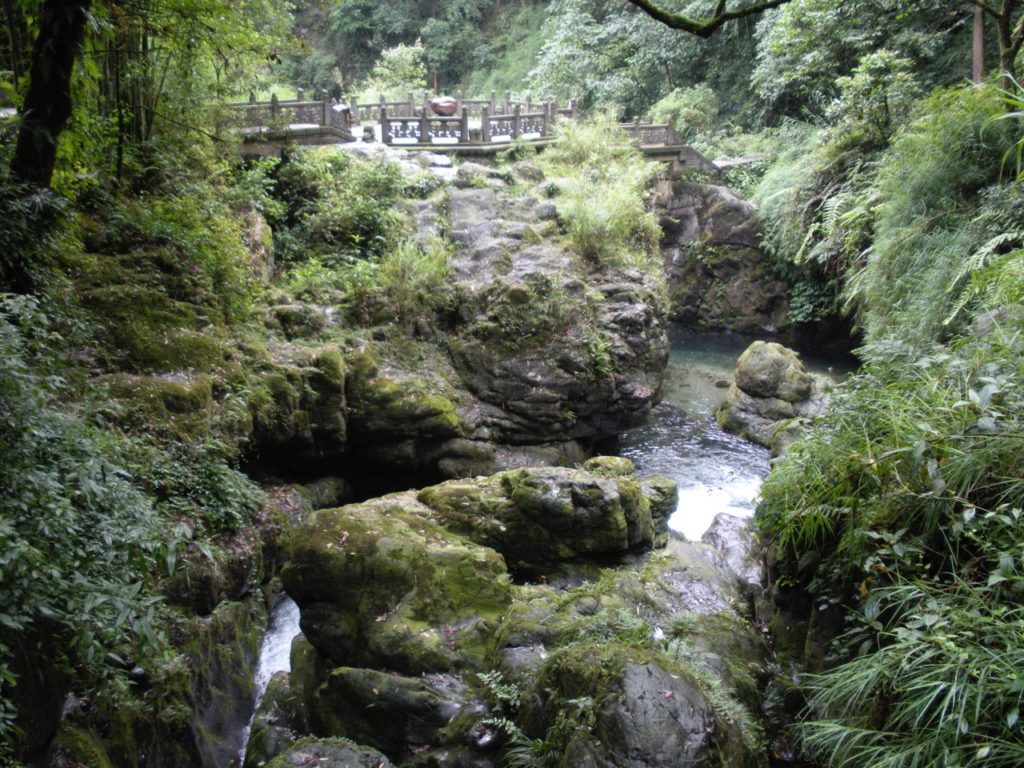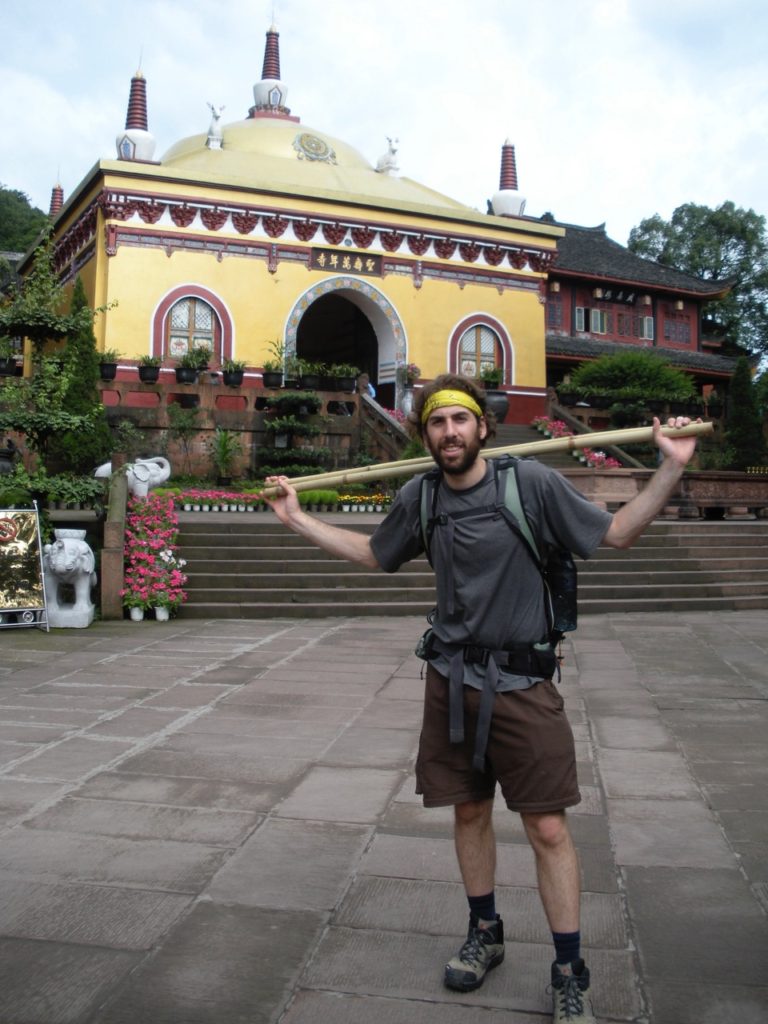 By 2:30, we had made it to the place we intended to stay the night, but it was so early and such a nice day that we decided to continue to just one more monastery. When we arrived we were at the peak! We are self-declared crazies.
This was the hardest hike of both of our lives but the views did not disappoint! The climb of several thousand slate steps, interjected with the occasional round of delirious singing, made it all worthwhile.
With nowhere to stay for the night, due to high pilgrim occupancy and exorbitant prices, we inevitably descended back to Baugou by bus.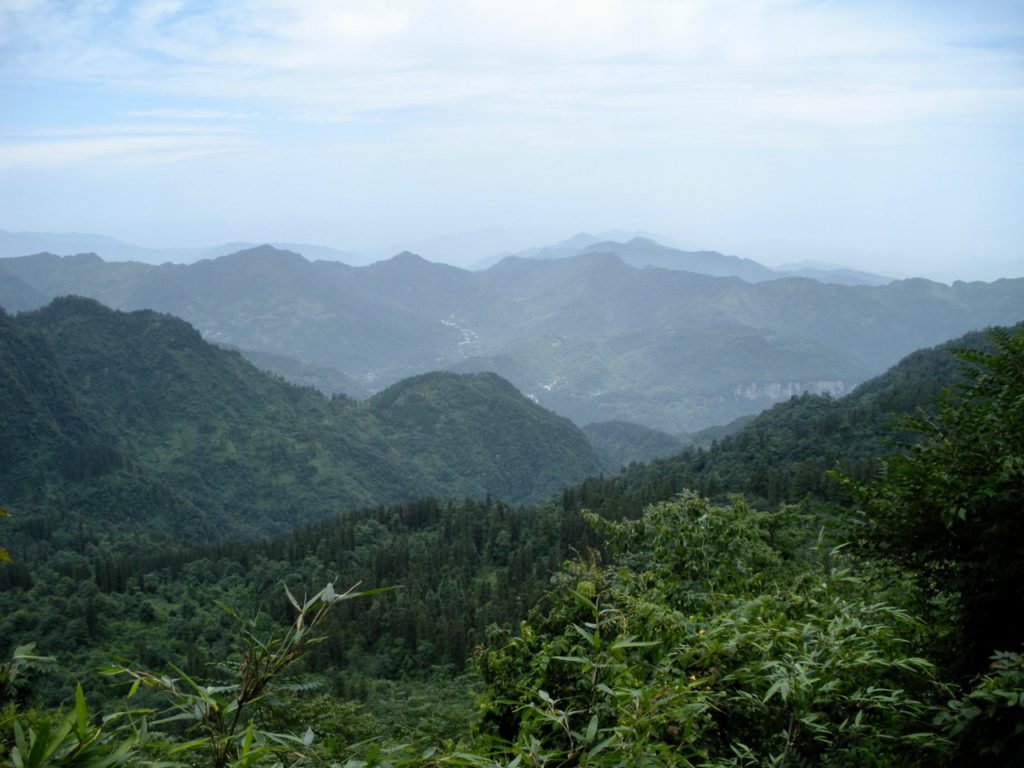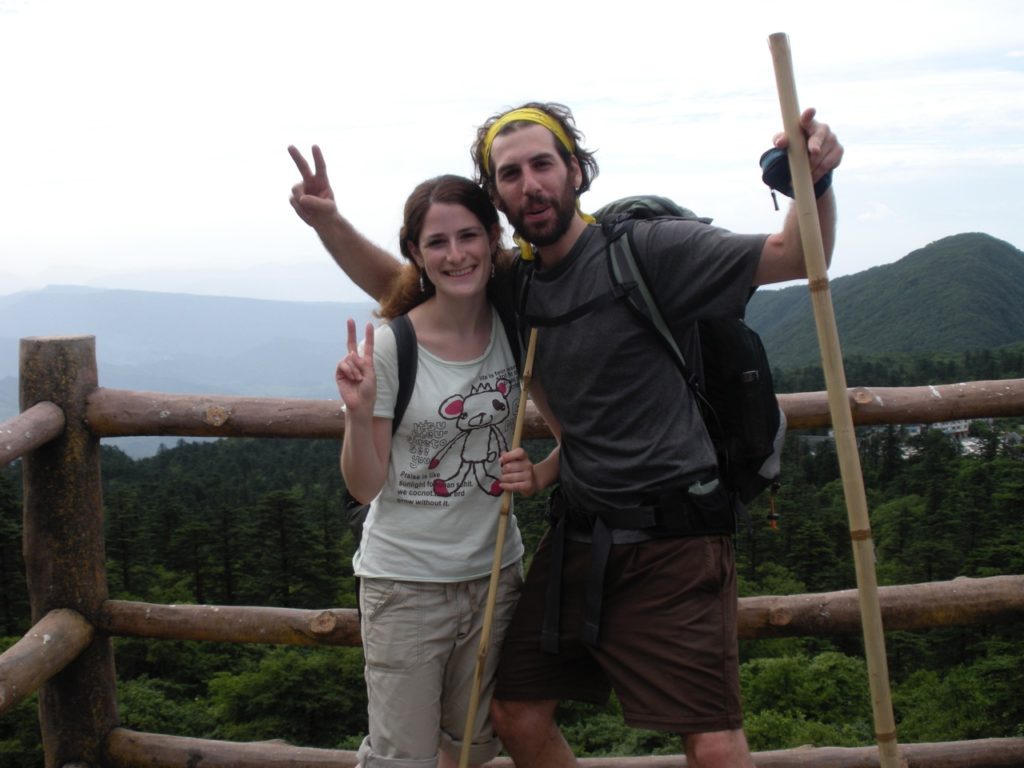 Baugou
This time it was my turn to declare my favorite food in China. Sichuan eggplant and garlic. Delicious!
We are now writing from Crouching Tiger Monastery (Fuhu Temple) near the bottom of Emei Shan.
We decided to spend some time exploring the bottom of the mountain and ended up seeing the best museum we have seen in China to date. Now we are enjoying the blue sky, tall trees, and huge mountains surrounding us.
Tips To Visit Emei Shan
There are 3 methods of going up the mountain:
Pilgrim style=walking
Chinese tourist style=taking the bus to the top for an afternoon
Compromise, some of the way with a bus, some of the way walking
*If you want to hike, we recommend going up and down in 2 or 3 days. Or hike really fast, like us. 😉 Please be aware that this is not a dirt path, but STEPS, all the way up.
Bus to midway stop is 40 rmb; to the top 70 rmb. Bus from top coming down 30 rmb. Chairlift to peak from top 50 rmb.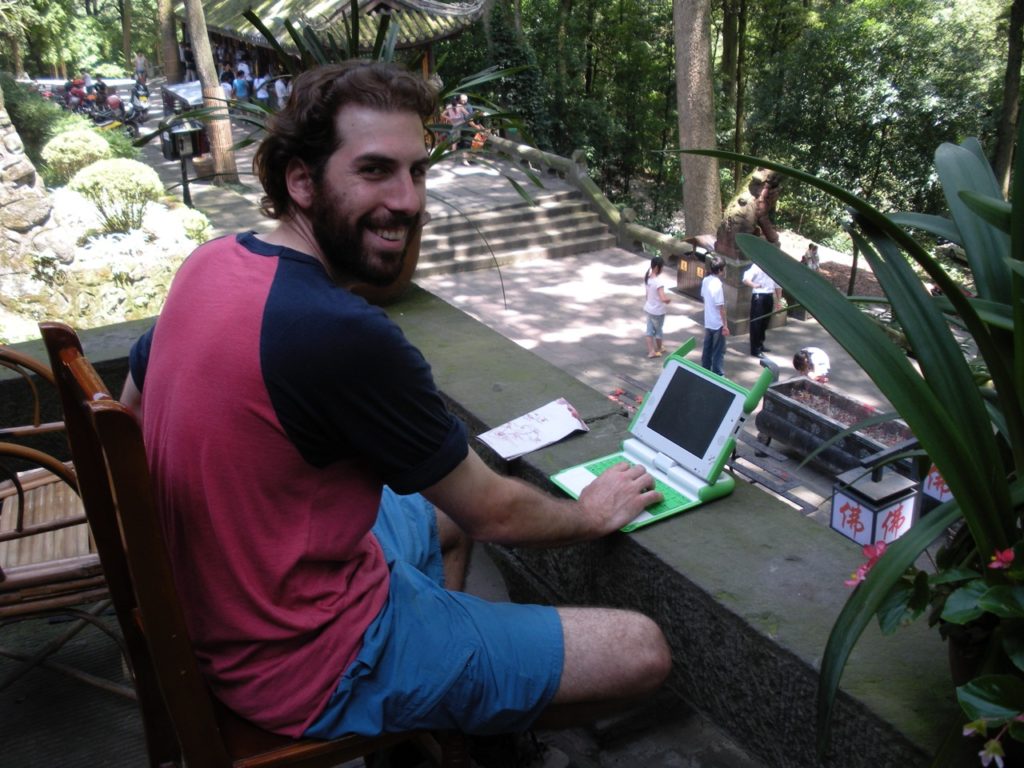 Where to Stay near Emei Shan
Accommodation in the hotel on top is 400 rmb. On the way up the mountain there is cheaper accommodation for about 50 rmb a bed, in selected temples; these are very, very basic.
Teddy Bear Hostel– rooms stuffy, not very clean and food not so good but, it is right at the entrance to the park…25 rmb/dorm.
"Vegetarian Restaurant"- lit up by neon lights you cross a small bridge over water to get here, just across and up a little from Teddy Bear. Try the Sichuan eggplant and anything else. Very nice atmosphere. Not a vegetarian restaurant but still called so…