You can easily recreate some or all of our road trip from Boston to Destin, via Charleston, South Carolina and Savannah, Georgia! Charleston and Savannah are only two hours away from each other so they make a perfect double destination trip! We had essentially one full day in each place- an afternoon, a night and a morning! It was a great way to see two new places in the low country on our very utilitarian road trip from the Northeast to Florida.
The Shortest Charleston, Savannah Road Trip Itinerary
Drive Boston to Columbia, Maryland via Philadelphia. (8 hours).
Drive Maryland to Charleston, South Carolina (8.5 hours). Charleston carriage ride tour.
Boone Hall Plantation in Mt. Pleasant. Drive to Savannah (2 hours) Walking tour of Savannah.
Morning in Savannah. Drive to Destin, Florida (7 hours).
Destin, Florida
Boston to Charleston- Driving and more driving
Our life continues on, and we can't not be on the road again, so this time it was a road trip to move our stuff back to Texas via a vacation in Florida.
So we left Boston at the ungodly hour of 5:30 am in order to meet some friends for lunch in Philly, and make it to Columbia MD to stay with friends with time to spare.
The next day again we left at the same time in the early morning and drove pretty much continuously to Charleston, SC. We wanted to get as much driving out of the way so we would have some time for sight-seeing.
One Day in Charleston, South Carolina
We arrived at about 3pm and after checking into our (wonderful) hotel in the historic district of Charleston, went to have a look around. We took a carriage ride tour of the area and although it was not very informative we got to see an overview of the area in the short amount of time that we had.
Charleston was a colonial city, but their main pride has to do with the Confederacy and most of what's in the historic district was all built by slaves while plantation owners were making money off of rice, indigo, and later, cotton.
We learned that the typical Charleston house is one room wide and has a long balcony along its edge.
Anyway, we "had" to return to the hotel, because they have a complementary wine and cheese hour and who wants to miss that? Speaking of the hotel, it was a historic inn and really nice, old fashioned style on the inside (yet totally modernized, with flat screen t.v. inside a cabinet, wifi etc); our room was two stories (!)
Then we went to dinner to try some "Southern" food. It was all really good but super fatty (everything either fried, or with butter, or with heavy cream or all of those).
Boone Hall Plantation
The next day, we went to what was the highlight for us, the Boone Hall Plantation. It's been a plantation since back in the day and it looks really picturesque.
The entrance to the Boone Plantation is the title picture of this post! Gorgeous 300 year old live oak trees.
We had a tour in the house, around the grounds, and in the slave cabins. There was a show about Gullah culture, which is the combination of West African and English language that on some of the islands outside the city people still speak to this day!
Before leaving the Charleston area, we made one last stop for some fresh air at Folly Beach.
One Day in Savannah, Georgia
In the afternoon we had a short drive to Savannah. We set up to stay at someone's house through couch-surfing and it turned out really well. It was a young guy in the military and he had an empty guest room that we used.
He also gave us a walking tour in the historic area of Savannah and it was super interesting. The town is really pretty with squares every couple blocks that are like mini-parks.
Here are some highlights: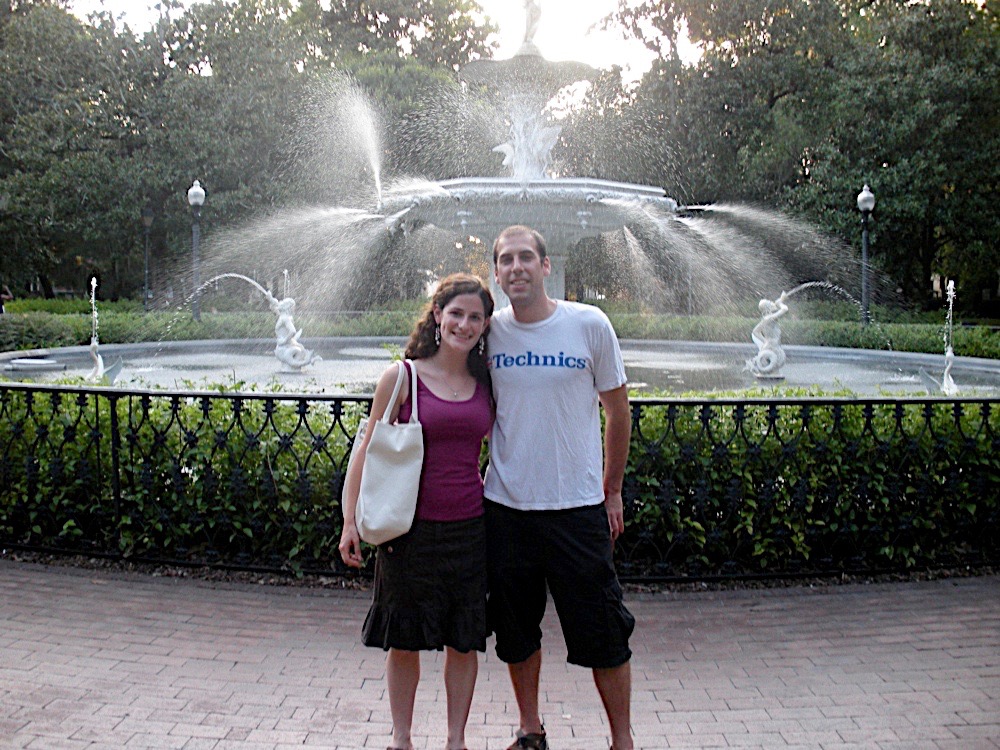 One of many plazas!
River Street at Sunset
Statue of John Wesley, founder of Methodism
St. John Cathedral
Filming location of the first scene of Forrest Gump. (The bench was removed and is in a museum).
We had a good time just exploring by foot that evening and the following morning. After lunch we were off to Destin, FL for some sand and sun.
Have you been to Charleston, Savannah or Destin? Do you have any more tips for us?