Our final days in Santiago were spent relaxing, eating, drinking, shopping and just generally in vacation mode. We did finally go to the art museum that was closed during the strike, but it wasn't even worth the trip downtown.
New Years was a party! And D's birthday ended the endless meals and celebrations.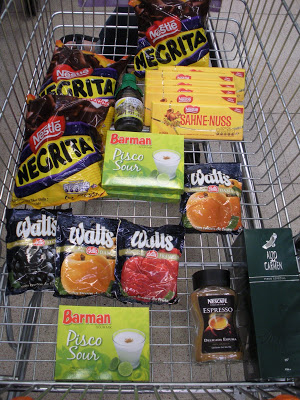 Before the flight home we went to the grocery store to stock up on Chilean favorites.
Favorite Chilean Snacks to Buy
Watts brand jam – we liked these made with mostly fruit and sugar!
Pisco sour powdered mixer – to easily make Chile's most famous cocktail
Alto Carmen brand Pisco – Chile's national liquor; this is one of the better brands
Nescafe espresso instant coffee
Sahne-nuss brand chocolates – very sweet milk chocolate with almond pieces
Miel de palma (palm syrup)- can be used like maple syrup or honey with a slightly different flavor
Negrita brand chocolate bars – these are like two vanilla cookies with vanilla frosting in the middle all covered with chocolate.
Flying Home to Mexico
On the flight back to Mexico, Copa may have redeemed themselves with decent airplanes and edible food. And although we almost missed our delayed flight from Mexico City, Chili's was worth it!
Until next time!
Do you also stock up on fun snacks at the grocery store when you travel? Isn't it one of the most fun ways to extend your trip and memories when you get home?
By the way, if you missed it, here are the rest of the posts all about Chile: Santiago, Punta Arenas, Chiloe, Puerto Varas, Puerto Montt, Torres del Paine.