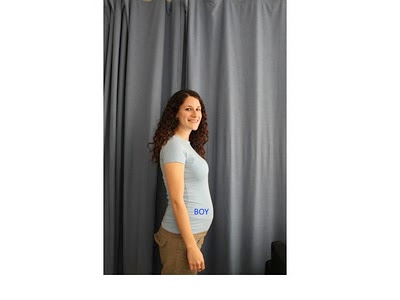 This was the exact email we sent everyone at 23 weeks of pregnancy. Just like that, as is.
I was going to figure out how we should tell them that we found out after making such a big deal of wanting to keep it a surprise. But M was like "OMG you're so fat! Let's take a picture". So I said fine, and then had this idea to just write on the picture and send it out, thus avoiding the whole conversation aspect while still conveying the news.
Luckily it was just fine; everyone responded quickly and excitedly! And while I was debating until the last minute at the doctor's office if we should just go for it or not, M had been wanting to know for a while, more than a month now, and so I just let it be.
And now he's even more excited, because in his words he was "getting attached" to the idea of a boy. So now it's all talk of tennis or soccer, and I'm just working on narrowing down a list of names.